ʻŌlelo Hawaiʻi (Hawaiian Language) Connections and Resources
Moananuiākea (great expansive ocean), also known as the Pacific Ocean today, represents thousands of islands covering one-third of the earth's surface. The movement of ancestral Oceanic people across remote Oceania was one of the most remarkable feats of open-ocean voyaging and settlement in all of human history which began more than 6,000 years ago.
Kānaka ʻŌiwi (Native Hawaiians) and Pacific Islanders share diverse, multi-layered perspectives and knowledge systems of values and practices tied to an intimate understanding of the ocean passed down from millennia of lived experiences. ʻŌiwi communities embody a rich legacy of living knowledge from a millennium of knowledge systems, and expertise that inform practice and support the resilience of indigenous communities to adapt through changes over time.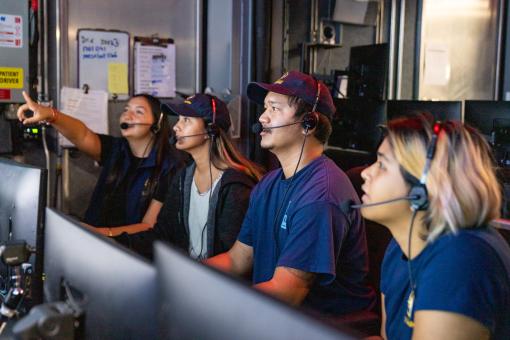 Credit
Ocean Exploration Trust
As Nautilus visits Hawaiʻi and Papahānaumokuākea, the ʻĀina Akua, the sacred, elder islands of Kānaka ʻŌiwi (Native Hawaiians) and the largest marine conservation area in the US, we gratefully acknowledge generations of Kānaka ʻŌiwi and today's stewards of these waters and honor ʻŌiwi knowledge systems through inclusivity that sets the tone towards transforming ocean science. These approaches focus on increasing ʻŌiwi participation to serve communities through partnerships affirming respect, equity, and reciprocity.
Throughout years of expedition planning, our team has been honored to collaborate closely with partners at NOAA Papahānaumokuākea Marine National Monument and members of the Papahānaumokuākea Native Hawaiian Cultural Working Group growing an equitable and inclusive partnership honoring ʻŌiwi knowledge systems and providing opportunities for ʻŌiwi to participate on expeditions. Through this partnership, Nautilus seeks to build a culturally-grounded pilina with the deep ocean through increasing participation and self-representation of indigenous and local community members connected to the ocean across a diverse range of science, technology, engineering, math, and maritime careers. From these diverse roles, Kānaka ʻŌiwi are able to specifically design strategies and leverage resources created through self-representation of culturally-grounded and locally-relevant content being shared and created to support community-identified priorities for education and outreach to local youth. 
Increasing indigenous participation is critical to encouraging the next generation to pursue careers in STEAM, ocean sciences, and maritime careers, where they are severely under-represented. Supported by the ʻIke Moana Project and National Marine Sanctuary Foundation, these collective efforts are laying a foundation for continued collaboration that equally values Indigenous science and Western methodologies and diversifies participation in multi-disciplinary research of biocultural deep sea ecosystems within PMNM and the Central Pacific.
While our ship, our team, and our global audience of explorers participating through telepresence sail in Hawaiʻi, we recognize the responsibility to enter Hawaiʻi Pae ʻĀina (the Hawaiian Archipelago) and Papahānaumokuākea with a mindset of openness, humility, and learning. Explore some of the materials from this partnership below!