Video:
What Does Cultural Protocol Mean in Papahānaumokuākea?
As we enter Papahānaumokuākea Marine National Monument on the Ala 'Aumoana Kai Uli expedition, we center Native Hawaiian values, practices, and cultural protocols to guide our team to respectfully engage with this 'Āina Akua, a sacred realm, and the biological, geological, and archaeological elements found here- because they are all cultural resources. 
The deep spiritual significance of the region requires a higher degree of respect and mindfulness. Through practice of Hawaiian protocol, we focus our minds, bodies, and spirits to connect to the region. Cultural protocol teaches how to properly conduct oneself and to be mindful of intentions, actions, words, and energies when visiting this sacred space. Learn more about how protocol became a key element of our daily ocean exploration operations during the Ala 'Aumoana Kai Uli expedition from Cultural Liaison Mahinalani Cavalieri and Papahānaumokuākea Resource Monitor and Guest Educator Malia Kapuaonālani Evans. 
This expedition was funded by NOAA Ocean Exploration via the Ocean Exploration Cooperative Institute.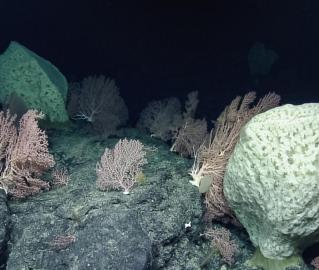 E/V Nautilus Expedition
Ocean Exploration Trust and partners will conduct a telepresence-enabled expedition to explore unseen deep-sea habitats aboard E/V Nautilus with ROV and seafloor mapping operations in the Papahānaumokuākea Marine National Monument (PMNM) focused on the largely unexplored northwestern section of the Monument.