STEM Learning Module
He Welo ʻOhana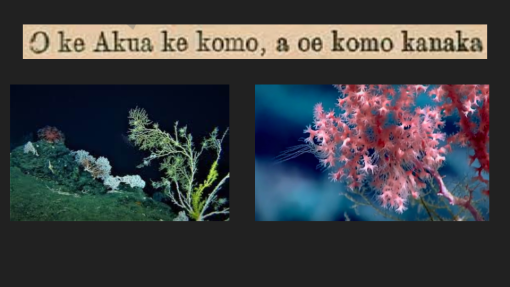 Ike Moana Hui
He Welo ʻOhana lesson focuses on coral reef ecology from the lens of the Kumulipo, a Native Hawaiian creation chant that identifies the genealogy of all organisms from the lipolipo (darkness). 
The lesson opens with the kula kaiāpuni standard and vocabulary associated with it then introduces students to the phylogenic tree. It speaks to the features and hereditary traits that connect organisms and how physical and behavioral traits have adapted over time based on their environment and food resources. The lesson then introduces this concept from a Native Hawaiian worldview through the Kumulipo, a Hawaiian creation chant. The Kumulipo is shared historically to give students the context of its origin and importance to Native Hawaiian genealogy. The lesson then highlights in detail the first organism expressed in the Kumulipo, ka ʻuku ʻakoʻakoʻa, the coral flea (polyp), and how it becomes the diverse ʻakoʻakoʻa (coral) that creates the foundation for these environments. They examine traditional noiʻi (resources) such as Hawaiian nūpepa (newspapers) and moʻolelo (stories) as well as implement marine science tools to gather information about the marine environment. As students move through the lesson they learn how to weave knowledge systems (Indigenous and Western Science methodologies) to develop a more comprehensive understanding of the coral reef environment. 
This lesson was created as part of the ʻIke Moana Project to create resources for Nā Kula Kaiapuni (Hawaiian Immersion schools) that share about the deep sea environment from a Kanaka ʻŌiwi (Native Hawaiian) lens. The ʻIke Moana project team consisted of five ʻŌlelo Hawaiʻi educators from across the state of Hawaiʻi with professional backgrounds in ʻōlelo Hawaiʻi, marine science, geology, and kanaka ʻōiwi science. Lessons were adapted from existing OET education resources, aligned with the science standards of the Ke Kula Kaiāpuni, Hawaiian Immersion school, system, and infused with Hawaiian history and culture to enable students to create their own moʻolelo (stories) and ʻōlelo noʻeau (proverbs) about ocean exploration. 
Disciplinary Core Ideas