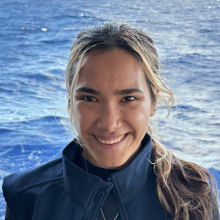 Jaina Galves
She/Her
Video Engineering Intern
Production Assistant
Seattle University
Tell us about your work/ research. What kinds of things do you do? 
I graduated from Seattle University in 2022 where I obtained a degree in film and environmental studies. I currently work at a video production company where we create videos and do live broadcasts. In my free time, you will always find me with a camera in hand taking photos and videos of the world around me.
What sparked your initial interest in your career?
I have always been drawn to the camera and I think it can be a useful tool in creating change. I love how you can tell stories from all around the world and let voices be heard. Being from Hawaii has taught me the importance of caring for our planet and when I moved to Seattle for college I thought I would merge my two passions by getting a degree in film and environmental studies where I can hopefully use my skills to tell stories to create change.
Who influenced you or encouraged you the most?
My friends are my biggest supporters. Whenever I doubt myself they are always there to pick me up and they truly believe I can accomplish anything I want.
What element of your work/ study do you think is the most fascinating?
I think the most fascinating part of my work is that every filmmaker has a different eye and can capture stories in a way no one else can.
How did you get involved with the Nautilus Exploration Program?  
I applied for the video engineering internship this fall when I saw the Science & Engineering Internship Program open.  A friend saw it and thought it would be a perfect opportunity for me to merge my two passions.
What other jobs led you to your current career? 
I have worked many different jobs that have got me to where I am today. From working with a photographer, running my dorm's front desk, to working with the USDA. Each of these opportunities has helped me towards my goals. Without these jobs I wouldn't have the necessary skills an experience I need to exceed today.
What are your degrees and certifications?
BA in Film Studies and minor in Environmental Studies
What are your hobbies?
I love being outside with my camera. Even if it is just going on a walk around my neighborhood I love taking my camera with me and seeing what new things I can photograph.
What advice would you give someone who wants to have a career like yours?
Being a filmmaker isn't easy it takes a lot of hard work and dedication, especially in a field that is so competitive. Always just be yourself and meet and talk to as many people as you can. You never know who you will come across that can give you an opportunity. And film and take photos as much as you can!
Expeditions
Jaina participated in the following Ocean Exploration Trust expeditions: