Video:
A Shared Voyage of Ocean Exploration
Since 2020, Ocean Exploration Trust has been working to build an equitable and ethical relationship with the Papahānaumokuākea Native Hawaiian Cultural Working Group to appropriately weave Hawaiian culture into deep sea exploration expeditions. This video uplifts the voices of featured Kānaka ʻŌiwi (Native Hawaiians) who have participated on expeditions in diverse roles including those who play major supportive roles from shore towards building a collective pilina (relationship) to the kai lipo (deep sea). 
A total of 14 ʻŌiwi have represented as ocean science, ROV engineering, seafloor mapping interns, science communication fellows, resource monitors, and cultural liaisons joining the OET team to learn from Papahānaumokuākea Marine National Monument as a sacred ancestral place of abundance where 90% of the marine areas are greater than 3,000 feet deep. These ʻŌiwi sail Moananuiākea as Indigenous scientists, voyagers, scholars, engineers, educators, fishers, and most importantly, as community members who learn from diverse schools of knowledge and perpetuate ʻŌiwi knowledge, values, practices, and worldviews caring for the ocean that they are genealogically tied to. From the darkness of the papakū (seafloor) habitats, the marine life and deep ocean processes are recorded in ʻŌiwi oral traditions and cosmologies like the Kumulipo. This year's expedition will continue ROV (remotely operated vehicle) dives to the seafloor to explore these deep-sea ecosystems. 
The most important message for all viewers is the importance of the process of engagement as the foundation for growing an equitable, reciprocal, and ethical partnership. Cultivating trust and pilina (relationships) from the beginning of the process is the foundation that led to co-developing expeditions that honor ʻŌiwi knowledge through equally valuing both Indigenous knowledge systems and Western science. 
Together, there is so much to learn about the ocean to care for its future.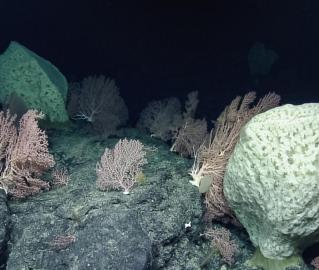 E/V Nautilus Expedition
Ocean Exploration Trust and partners will conduct a telepresence-enabled expedition to explore unseen deep-sea habitats aboard E/V Nautilus with ROV and seafloor mapping operations in the Papahānaumokuākea Marine National Monument (PMNM) focused on the largely unexplored northwestern section of the Monument.