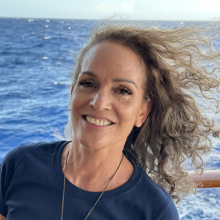 Malia Kapuaonālani Evans
She/Her
Guest Educator & PMNM Resource Monitor
Outreach and Education Coordinator
Papahānaumokuākea Marine National Monument and UNESCO World Heritage Site
Tell us about your work/ research. What kinds of things do you do? 
Over the last 2 decades, Iʻve had the privilege to work collectively with many colleagues, organizations, and agencies to elevate Indigenous knowledge, expertise, and practices to expand scientific understandings and methodologies. These equally valuable bodies of knowledge inform and guide the work I do in natural and cultural resource management, research, education, and outreach in Hawaiʻi nei. By weaving Indigenous knowledge and practices with science and technology we expand our ability to adapt to a changing world, provide a roadmap for cultural resilience and have the potential to develop innovative solutions for humanityʻs most pressing challenges. A traditional Hawaiian proverb states ʻAʻohe pau ka ʻike i ka hālau hoʻokahi. Not all knowledge is found in one school. This jewel of ancestral wisdom guides the work I do.
What sparked your initial interest in your career?
As a child/teen growing up on Hawaiʻi Island, I was taught to be mindful of Hawaiian cultural and archaeological sites that remained on the landscape and I had great curiosity about their form, function and who constructed them. This curiosity stayed with me into my adulthood where I witnessed rapid development occurring in Hawaiʻi and impacts to these wahi kūpuna, ancestral places that hold great significance for the Native Hawaiian community. At 36 years old, I decided to get a degree in archaeology and historic preservation so I could advocate on behalf of Hawaiʻiʻs cultural land/seascapes and empower community members to take the lead to protect, manage and revive their community history.
Who influenced you or encouraged you the most?
Iʻve had many kumu (foundation, teachers) from all walks of life, some living and some who have passed, whoʻve encouraged my interests and influenced me through their teachings, writings, and research. An important facet of my learning process was researching my Kānaka 'Ōiwi ancestors who were staunch defenders of Hawaiian culture, language and sovereignty during a tumultuous time in Hawaiian history. Through the work they did in advocating for Hawaiian self rule, writing for and publishing Hawaiian language nupepa (newspapers) they provided space for rich discourse, preservation of oral histories and the transmission of Native narratives that challenged the American colonization process and occupation of Hawaiʻi.
What element of your work/ study do you think is the most fascinating?
Iʻm continually fascinated with how my kūpuna (ancestors) developed a sophisticated society that supported a thriving population on the most isolated archipelago in the world, through careful management of finite island resources. What can we learn when we look to the past to inform our future and what ancestral practices and values can we apply to enhance our relationship with the environment and with each other?
How did you get involved with the Nautilus Exploration Program?  
Iʻve had the opportunity and privilege to collaborate as a staff member of Papahānaumokuākea Marine National Monument with the OET team during the last 3 years to envision and articulate what respectful, ethical and equitable ocean exploration, research and education in Indigenous spaces looks like. This successful partnership has required an investment of time in building trusting relationships and the space to engage in conversations and acknowledgement about power imbalances, representation, accountability and access. Through this partnership with OET, expedition participation by Indigenous and local community members has increased, culturally-grounded educational projects and content have been produced and career opportunities for youth expanded as they see Indigenous and local role models across a spectrum of STEAM disciplines participating and contributing to ocean exploration knowledge.
What other jobs led you to your current career? 
Iʻve been a keen observer of the environment and people since childhood, and many of my job choices have honed my interests and skillset. While raising my 5 children, I researched and documented archaeological sites and stories of place within the district I lived. Through that process, I wrote a monthly column for a local newspaper to engage community in protecting and stewarding these wahi kūpuna (ancestral places). During that time I co-founded a non-profit to engage youth and ʻohana in Hawaiian cultural practices through hula and music. After college, I worked as an archaeologist/ethnographer to research, survey, document, and monitor archaeological sites and record oral histories and cultural practices tied to these significant places. Long-term pilina (relationships) and engagement with the community fostered an opportunity to co-develop an ethnographic field school for the University of Hawaiʻi at Mānoa in collaboration with Kamehameha Schools and local kūpuna (elders). We collected and archived oral histories and stories of community in addition to training the next generation of researchers in methodologies that honor Indigenous knowledge, practices and relationships. As a life-long educator, Iʻve taught Hawaiian Studies to elementary students in the public school system and currently educate and engage with students and the broader community about Papahānaumokuākea, a sacred place and seascape that comprises one of the largest marine protected areas in the world. As a Kānaka 'Ōiwi, I have a kuleana, a responsibility and privilege, to advocate for our honua, our earth and help to cultivate and maintain healthy marine and terrestrial ecosystems for the generations that come after me.
What are your degrees and certifications?
Iʻm a proud graduate of Leeward Community College (2004) and the University of Hawaiʻi at Mānoa. I have a BA in Anthropology (2007), MA in Applied Archaeology, and a graduate certificate in Historic Preservation (2011).
What are your hobbies?
I love singing, hula, hiking, all kine dancing, gardening, cooking (I make a wicked ulu, kalo, and ʻuala poke), playing ukulele, storytelling and creative writing. I really enjoy connecting with keiki (children) through read-aloud stories and have a YouTube channel "Storytime with Tutu Malia" that features several books my kids and grandkids love.
What advice would you give someone who wants to have a career like yours?
Cultivate a sense of wonder and curiosity about the world. View the environment and the diversity of ecosystems and organisms as ʻohana, family. Deeply understand that whatever happens to you, to me, to life in the ocean, and on land will affect all of us. Donʻt accept the status quo and/or systems that oppress and always look for opportunities to expand your awareness of other cultures, knowledge systems and world views.
What excites me most is the opportunity to learn from the ocean, from my fellow crew members and the team whoʻve studied the oceanic domain over time. Iʻm excited to observe and engage with the deep ocean and atmosphere through technology and see what will be revealed to us over the month of research and exploration.
Expeditions
Malia Kapuaonālani participated in the following Ocean Exploration Trust expeditions: