Inspiring the Next Generation of STEM Explorers
A central pillar of Ocean Exploration Trust's mission is inspiring and motivating the next generation of explorers and STEM professionals.
We host a suite of free educational programs and resources to introduce teachers, students, science centers, and local communities to the excitement of discovery and the role models who push back the boundaries of the unknown and inspire explorers around the world.
Ocean Exploration Trust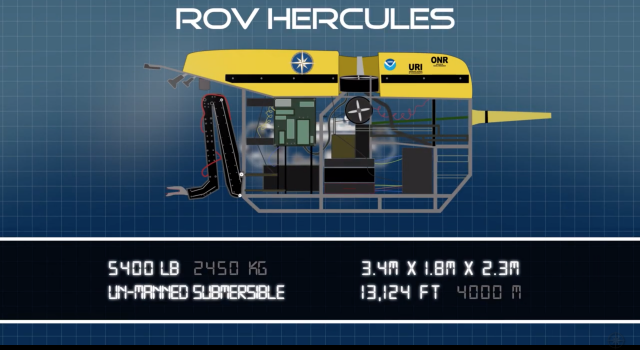 Education Resources
OET's 100+ STEAM education resources for learners in classrooms, at home, or community include national-standard aligned activities, facilitation guides, engineering design challenges, and creative projects for every age and stage.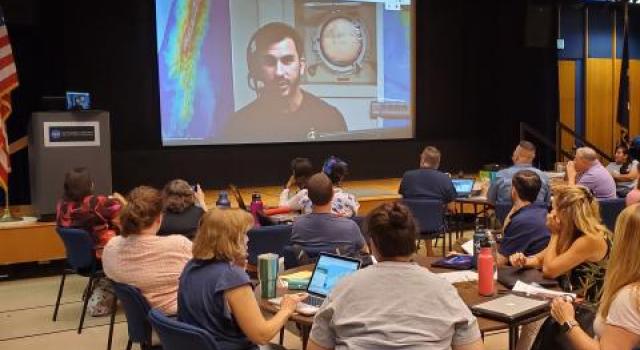 Live Ship-to-Shore Interactions
Ship-to-shore interactions are one-on-one live video Q&A broadcasts with the Corps of Exploration to learn more about life onboard the ship and the latest discoveries on Earth. Interactions are free to classrooms and camps and scheduled 7 days a week to meet your needs.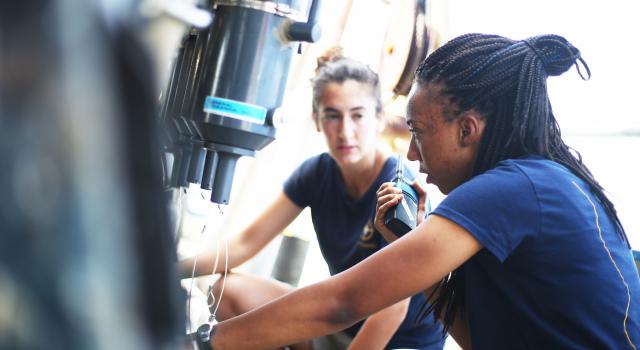 At-sea programs
Educators and students can join our Corps of Exploration at sea through our Science Communication Fellowship and Science and Engineering Internship Program.
Nautilus Educational Impact
Ocean Exploration Trust and E/V Nautilus educational initiatives have connected global learners of all ages with deep sea exploration, science, and technology. Since 2010, notable highlights in our education and outreach programs include:
Ship-to-Shore Interactions hosted over 6,000 live connections reaching over 651,000+ learners in classrooms, science centers, and communities around the world.
Science & Engineering Internships at-sea workforce training for 160 community college, undergraduate, and graduate students studying ocean science, engineering, video, and seafloor mapping.
Science Communication Fellowship embedded 157 formal and informal educators as STEM expedition communicators and storytellers in our team.
Professional Development Workshops trained 600+ educators with inquiry-driven resources to connect K-12 content with real-world research, exploration, and STEM careers.
Corps of Exploration expanded role model mentors to include 1500+ scientists, engineers, educators, students, and mariners. 
Public outreach answered 20,000+ questions last year through the Nautilus livestream question feed.
Expanding STEM representation 70% of 2020 at-sea education program positions awarded to women. 45% of 2020 Science & Engineering interns identify from historically-excluded communities in STEM.
Ocean Exploration Trust
STEM Career Role Modeling
The international Nautilus Corps of Exploration consists of engineers, scientists, technologists, educators, students, and mariners.
We inspire audiences to become lifelong learners and pursue interests, education, and careers in the fields of science, technology, engineering, and mathematics (STEM) through engagement with our Corps of Exploration and the excitement of discovery. Our programs lead educators and students to an increased awareness of and engagement in STEM careers through classroom resources, community events, at-sea programs, and interactive broadcasts with STEM professionals and program participants. 
There are many career paths that connect the disciplines of exploration and lead learners to STEM jobs across industries. Our Corps of Exploration represents a wide variety of backgrounds, training paths, professional experiences, and intersectional identities. 
Meet our team and learn more with our STEM Career profiles.
Featured Education Content
Inspired by Nautilus Live
Share how you explore our lessons, programs, and livestreams with #InspiredByNautilusLive or this feedback form.