Blog:
The Crossroads of Science and Hawaiian Culture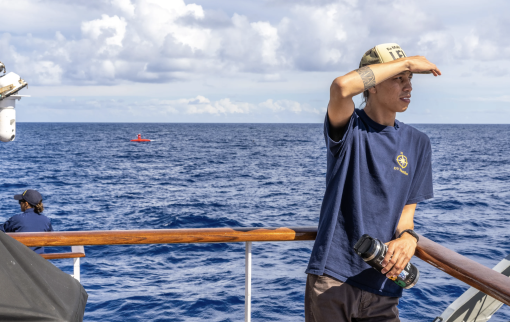 Ocean Exploration Trust
Ke aloha pumehana iā kākou ma nā kihi a pau o ka honua! ʻO wau nō ʻo Kainalu Steward a he kama haʻaheo wau i hānau a hānai ʻia ai ma ka mokupuni o Maui. He Hawaiʻi wau a ʻo Hawaiʻi kuʻu kulāiwi. 
Warm greetings to all in every corner of the world! My name is Kainalu Steward, and I am a proud child born and raised on the island of Maui. I am a Native Hawaiian, and Hawaiʻi is my homeland. As a recent graduate from the University of Hawaiʻi at Hilo, I received my Bachelor of Arts in Hawaiians Studies and a Master of Science in Tropical Conservation Biology and Environmental Science.
During the 2022 E/V Nautilus expedition season, I had the opportunity and kuleana (privilege) to serve as the cultural liaison on board NA142, Luʻuaeaahikiikawawāapalaoa: Dual-Technology Seafloor Mapping, while also joining as a seafloor mapping intern. Over three weeks, we worked on mapping the seafloor of Papahānaumokuākea Marine National Monument using acoustic systems aboard Nautilus, as well as testing the mapping capability of the uncrewed surface vessel DriX. 
My experience as a cultural liaison brought together my love of culture and science into one impactful role. As the cultural liaison, my responsibilities focused on leading and conducting cultural protocol, a Hawaiian custom of practices and behaviors upon entering and leaving the monument throughout our expedition, while maintaining space for our Native Hawaiian community on board. 
Papahānaumokuākea is a significant and sacred place to our people. We believe that it is the realm of pō, or darkness, where the spirits of our ancestors and gods return and where our creation stories of all life began. The name Paphānaumokuākea honors the deities Papa and Wākea, who are commonly known as our earth mother and sky father. Their joining gave birth to our Hawaiʻi pae ʻāina or island chain. In this respect, we refer to Paphānaumokuākea as our ʻāina kūpuna, or ancestral lands, and have a deep reverence when in this space as if we are visiting our elders. Papahānaumokuākea is a place where we reconnect with our ancestral memories and spiritual guardians reflected in our skies, winds, ocean currents, lands, and its vast flora and fauna all around us. 
As Native Hawaiian people, we are deeply tied to our land and therefore aim to conduct ourselves in a reciprocal and familial manner across our landscapes. Like anywhere we go, it's important that we acknowledge, greet, and express gratitude to the place and its people that are genealogically bound to these lands. And so, with this in mind, as a cultural liaison, I offered my leo (voice) through oli (chants) and pule (prayers) while also giving hoʻokupu (ceremonial gifts) of paʻakai (salt) and wai (freshwater) as we journeyed to and from Papahānaumokuākea.  
While fulfilling both roles as a cultural liaison and seafloor mapping intern, I reflected on the opportunity to be on board and reconnect with our ancestral realm while also being a scientist. Often in science, we dismiss or forget that the indigenous peoples and the wisdom cultivated over generations have a wealth of scientific knowledge embedded in their language and stories to forms of arts, sustainable practices, and everyday lifestyles. This experience was a process of remembering that I am a product of their brilliance, and because of them, I have the courage to step into these roles.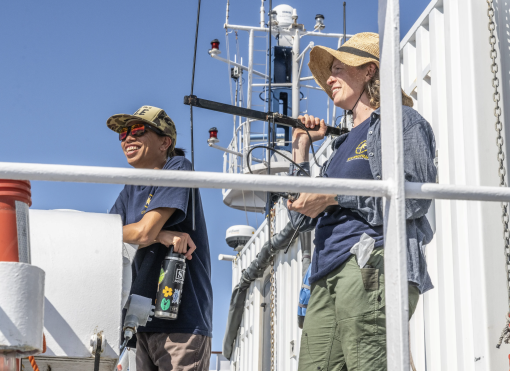 Credit
Ocean Exploration Trust
E/V Nautilus Expedition
This expedition focuses on high-resolution mapping areas of Papahānaumokuākea Marine National Monument (PMNM) currently lacking data using ship-based mapping surveys in deep waters as well as deploying the uncrewed surface vessel DriX for nearshore mapping.