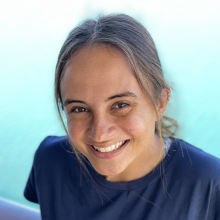 Kukui Gavagan
She/ Her
Science Manager In Training
Undergraduate Student
University of Hawaiʻi at Hilo
Tell us about your work/research. What kinds of things do you do?
Ke nānā nei au i nā aio a ke hōʻao nei mākou (ʻo wau lākou o kaʻu mau kumu) e ʻimi i ke kūlana kālaikaiaola o kēia ʻano holoholona. I loko nō o ka pūano o ko lākou kino, hiki ke wehe i ka pane, he aha kā lākou e ʻai nei a pēlā nō e hiki ai ke imi mau i ke kūlana kālaikaiaola holokoʻa a e ʻoi aʻe ko kākou maopopo i ka waiwai o kēia aio huna. A ua nānā mākou me kekahi mau poʻe mai kekahi kula nui aku i nā mea pili i ko lākou ʻano kino a me ko lākou ōewe i mea e hōʻoia ai i ka lāhulu o kēia aio.

Right now my advisors and I are studying fireworms in hopes to look into the ecological role of these organisms. By studying the metabolites (comparing chemical signatures between worms and their potential food sources) we can find the answer to what they are eating which enables us to be able to continuously study the ecological role and increase our understanding of these cryptic fireworms. In addition, we are working with other people from another university to study the morphology and the genetics of these organisms in order to identify the species of these fireworms.
 
What sparked your initial interest in your career?
ʻO ka mea nui, ʻo koʻu nohona ma kēia pae ʻāina o Hawaiʻi ka mea i hōʻea mai ai i koʻu hoihoi pili i ke kalaimeaola kai. ʻO ka moʻomeheu Hawaiʻi ka mea i aʻo a hōʻike mai iaʻu ka waiwai o ko kākou kumu ʻo ia hoʻi ke kai, ka moana, ke kai hohonu, ka ʻāina, nā mauna, kēia honua holoʻokoʻa e pēlā aku.
Mostly it was my bringing up here in the islands of Hawaiʻi that brought on my interest pertaining to marine biology/science. It was the Hawaiian culture that showed me the value of our resources which are the ocean, the currents, the deep sea, the land, the mountains, this whole world and so many other things.
 
Who influenced you or encouraged you the most?
He mau poʻe lawaiʻa ko koʻu ʻohana a no laila loaʻa ka ʻōewe i koʻu ʻohana a i loko oʻu, ʻo kēlā kekahi mea nui i hoʻā i koʻu hoihoi. A he hoahānau e hana nei ma kekahi polokalamu nui ma NOAA a ʻo ia ka mea i hōʻike mai ai iaʻu hiki ka poʻe e like me aʻu ke hana i kēia ʻano papahana. A ua hele au i ke kula kiʻekiʻe a ua hiki iaʻu ke kia a hoʻonui i koʻu ʻike a me koʻu hoihoi pili i nā mea moʻomeheu Hawaiʻi a me ka nā mea pili i ke kai.
I had fishermen and water people in my family so the gene is in my family, and inside of me I guess. Those were some of the main things that sparked my interest. I also have a cousin that is working in one of the programs at NOAA and so she was the one who showed me that people like me (like us) are able to work in those kinds of programs. I also went to a high school that enabled me to focus and increase my knowledge and passion related to Hawaiian culture and the ocean.
What element of your work/study do you think is the most fascinating?
Puni au e nānā i ke ao kālaimeaolahune. ʻO nā holoholona e huna nei ma ʻō ma aneʻi ka mea hoihoi nui loa noʻu. Eia naʻe puni au e aʻo pehea e hoʻopili ai i nā mea moʻomeheu Hawaiʻi me nā mea ʻepekemakai no ka wehe a apo ʻana i ka manaʻo nui i mea e maopopo ai i nā mea pohihihi i kēia honua.
I am really interested in studying the realm of microbiology. It is the organisms that hide everywhere that is my main interest. In addition, I really love learning how to connect Hawaiian culture and marine science in hopes to open up and grasp important things to understand the mysteries pertaining to this world we live in.
 
What other jobs led you to your current career?
He mau hana ʻokoʻa kaʻu i koʻu wā kula nui a me koʻu wā ma mua o ka hōʻea ʻana i ke kula nui. Ua hana a hoʻokō au i ka polokalamu ʻo NOAA Ernest Serano Educational Partnership Program with Minority Serving Instituions (EPP/MSI) me nā huʻeʻao pili i ka ʻike pili a me ka helu waiwai kālaikaiaola. A ua hana au ma ka Multiscale Environmental Graphical Analysis (MEGA) Lab ma ke kula nui ʻo UH Hilo kekahi me ke kūkulu ʻana i kekahi ʻano kiʻi koʻa (3D orthomosaics) i mea e hoʻomaopopo ai i nā kūkulu o ke koʻa. I kēia manawa, ke kōkua mau nei au i kēlā papahana a he limahana kōkua/palekana luʻu kai au no ke kula nui. A ʻaʻole pau palena koʻu mahalo no kēia mau manawa kūpono.
I had different jobs during my time at college and before I enrolled in college. I also participated in the NOAA Ernest Serano Educational Partnership Program with Minority Serving Institutions (EPP/MSI) internship in which I completed internships related to data management and ecological inventories. I also worked in the Multiscale Environmental Graphical Analysis (MEGA) Lab at UH Hilo in learning how to build 3D orthomosaics of coral structures in order to further understand the dimensions and structure of coral reefs. At this moment, I still volunteer with that program and I am a dive safety assistant for the University of Hawaiʻi at Hilo Dive Safety Program. There are no words that can describe how grateful I am for all of these opportunities.
 
What are your degrees and certifications?
Ma kēia kau hāʻulelau ʻo kēia makahiki ʻo 2022, e loaʻa ana iaʻu kaʻu palapala mēkia ʻepekema kai me ka maina haʻawina Hawaiʻi me kekahi palapala hōʻoia aku ʻo Marine Option Program (MOP), ʻo ia koʻu manaʻolana. Eia naʻe he palapala hōʻoia kaʻu i loko nō ʻo ka luʻu kai ʻepekema, ka luʻu kai palekana, a me ka ʻike pili ʻoihana luʻu.
During this fall semester of 2022, I am hoping to get my Bachelor of Science in Marine Science and my minor in Hawaiian Studies, and another certificate in the Marine Option Program (MOP). I am also a certified scientific diver, rescue diver, and master diver.
What are your hobbies?
Puni au e holo (aia au ma ka hui holo no ke kula nui), heʻenalu, luʻu kai, a hula no ka hapanui o koʻu manawa kaʻawale.
I really enjoy running (I am on the cross country team for the university), surfing, diving, and dancing hula during most of my free time.
 
What advice would you give someone who wants to have a career like yours?
I loko nō o paʻakīkī ka hana, e noke mau. I loko nō o ke ʻakaʻaka ʻia ʻoe, noke mau. I loko nō o maopopo ʻole ka manaʻo, noke mau e hāpai i kou nīnau a me kou manaʻo. E noʻonoʻo iā ʻoe iho. ʻO nā mea liʻiliʻi ka mea nui loa o ka hapanui o ka manawa.
Even if it is hard, keep going. Even if you are made fun of, keep persisting. Even if something is not clear or if there is not a clear path, keep going, bring about your questions and your thoughts (bring them into existence). Know and think for yourself (you know yourself better than anyone). It is often the little things that are the big things in the main picture.
 
How did you get involved with the Ocean Exploration Trust?
Ua hāpai ʻia kēia polokalamu e kekahi mau o kaʻu kumu mai kekahi papahana kula kiʻekiʻe ʻo ia hoʻi ʻo Hālau Holomoana. A ua paepae ʻia au e kaʻu mau alakaʻi mai ka polokalamu kula nui ʻo ia hoʻi ʻo Keaholoa STEM Scholars e kāinoa no kēia polokalamu.
This program was advertised by some of my teachers from a high school program called Hālau Holomoana. I was also encouraged to apply to this program by some of the leaders from one of the college programs called Keaholoa STEM Scholars.
 
Expeditions
Kukui participated in the following Ocean Exploration Trust expeditions: