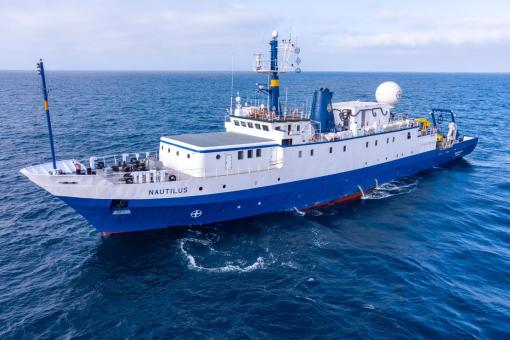 Credit
Ocean Exploration Trust
Ocean Exploration Trust (OET) and the Nautilus Exploration Program aim to explore the ocean, seeking out new discoveries in the fields of geology, biology, maritime history, archaeology, and chemistry while pushing the boundaries of education, outreach, and technological innovation. Our expeditions center on scientific exploration of the seafloor, collaborating with the broader research community to identify priority regions and phenomena, and sharing our expeditions with explorers around the world via live telepresence. 
Expeditions are launched aboard Exploration Vessel (E/V) Nautilus —a 68-meter research vessel equipped with remotely-operated vehicles (ROVs) — and from other vessels OET charters to deploy our mobile ROV system. During our expeditions, we offer scientists, educators, students, and the global public a remote exploration experience via live video, audio, and data feeds from the field, as well as ship-to-shore interactions direct to classrooms and science centers. We embed educators and students in E/V Nautilus expeditions, gaining hands-on experience in ocean exploration and serving as STEM role models for the next generation. NautilusLive.org offers an immersive experience year-round for explorers to learn more about our expeditions, find educational resources, and marvel at new discoveries. 
Ocean Exploration Trust was established as a 501(c)(3) nonprofit in 2007 to support the newly launched Ocean Exploration Program in the United States, which was outlined and guided by the President's Panel for Ocean Exploration in 2000. OET's program is national and international, with funding support from federal agencies as well as the private and public sectors. Since the NOAA Ocean Exploration Program was authorized into US law by Congress in 2009, OET has been partnering closely with the NOAA Office of Exploration & Research as well as other government agencies, academic institutions, and the private sector to advance the field of deep-sea exploration and to engage the public and next generation. 
Ocean Exploration Trust Milestones
2007 OET was incorporated as a 501(c)(3) nonprofit
2008 OET acquired R/V Alexander von Humboldt, now E/V Nautilus
2009 E/V Nautilus deployed for a 3-week expedition in Turkey
2010 E/V Nautilus deployed for a 4-month expedition in the Mediterranean Sea
2011 E/V Nautilus deployed for a 4-month expedition in the Mediterranean, Aegean, & Black Seas
2012 OET established an MOA with NOAA Office of Exploration & Research; OET hosted a community workshop to define exploration priorities in the Caribbean; E/V Nautilus deployed for a 2-month expedition in the Black & Aegean Seas
2013 OET installed a Kongsberg EM302 aboard E/V Nautilus; E/V Nautilus deployed for a 4-month expedition in the Gulf of Mexico & Caribbean Sea
2014 OET hosted a community workshop to define exploration priorities in the Eastern Pacific; E/V Nautilus deployed for a 4-month expedition in the Gulf of Mexico and Caribbean Sea
2015 E/V Nautilus deployed for a 6-month expedition in the Gulf of Mexico, Galapagos, and west coast of North America
2016 E/V Nautilus deployed for a 5-month expedition along the west coast of North America
2017 E/V Nautilus deployed for a 5.5-month expedition along the west coast of Central and North America
2018 E/V Nautilus deployed for a 5.5-month expedition in the Eastern Pacific from California to British Columbia to Hawaii, Papahānaumokuākea Marine National Monument, and the Clarion Clipperton Fracture Zone
2019 In partnership with URI, WHOI, UNH, and USM, OET was awarded the NOAA Ocean Exploration Cooperative Institute; Installation of a traction winch, wet lab renovation aboard E/V Nautilus; OET's mobile ROV system was brought online; E/V Nautilus deployed for a 5-month expedition in the Eastern and Central Pacific; OET conducted its first mission in the Great Lakes
2020 Installation of a new engine aboard E/V Nautilus