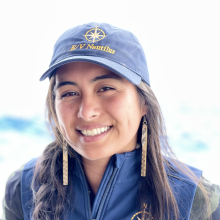 Ho'oipo Bertelmann
Cultural Liaison
Program Assistant
The Kohala Center
Tell us about your work/research. What kinds of things do you do?
I am an assistant at The Kohala Center and also a student at Hawai'i Community College. Before becoming an assistant in the office at the Kohala Center, I was a field technician who helped take care of Kohala Mountain watershed ecosystems like Kawaihae and Laupahoehoe Nui. For the past year as an assistant, I have been learning a lot about the importance of administrative tasks while also growing a deeper understanding of the reality of conservation and the role it has within our communities. As far as Hawaiian culture, I have been raised in Hawaiian culture since my birth and only attended Hawaiian immersion or Hawaiian-focused charter schools. I decided to pursue my Bachelor's degree in Hawaiian Studies. Beyond school, I am a hula dancer and a support staff for the Nā Kilo ʻĀina (observer of all of those things that feed us) Program run by Native Hawaiian non-profit organization, Nā Maka Onaona, to support ʻĀina Momona, healthy and thriving communities of people and place.
What sparked your initial interest in your career?
I was hungry to get to know my home better than I already did. I grew up learning about the pu'u (hills) on Kohala Mauna (Kohala Mountain), but when I graduated I wanted to know what it was like to touch that space. I wanted to understand where the water that I drank came from and I wanted an opportunity to get to know the many forms of water catchers within my community.
Who influenced you or encouraged you the most?
The way my mother raised my siblings and me. Her teachings are grounded in getting to know a place and growing a relationship with a place that has sparked my interest in the work that I do now.
What element of your work/study do you think is the most fascinating?
I believe being on ʻāina and with ʻāina. Being able to intimately get to know a place through the work that I do is the most fascinating part. Also being a part of healing spaces from generations of trauma or destruction is another big part of my work that I believe is fascinating.
What other jobs led you to your current career?
I had many opportunities that lead me to the career that I choose to be in today. Participating in different types of cultural programs, one of my teachers taught me about the pu'u (hills) of Kohala as a child, and attending Kanu o Ka ʻĀina, Hawaiian-focused charter school, from middle school to high school, exposed me to forestry opportunities. Also, my mother and brother taught me so much about what ʻāina means on a deeper level.
What are your degrees and certifications?
I have a certificate in Hawaiian Lifestyles from Hawaii Community College.
What are your hobbies?
I love to farm, hunt, plant, ride horses, and take care of animals. I also enjoy spending time with family and friends.
What advice would you give someone who wants to have a career like yours?
If you are interested in conservation, do it! But it's important to understand the reasons that you are doing it. Is it so that you can make a name for yourself? Or is it so that you can contribute to the healing of our lands, so that generations beyond us still have the means to thrive?
How did you get involved with the Ocean Exploration Trust?
I was nominated to carry the kuleana (responsibility) of being the cultural liaison on this expedition through my past work and relationships with members of the Papahānaumokuākea Native Hawaiian Cultural Working Group.
Expeditions
Ho'oipo participated in the following Ocean Exploration Trust expeditions: