Blog:
Ship-to-Shore Interactions in ʻŌlelo Hawaiʻi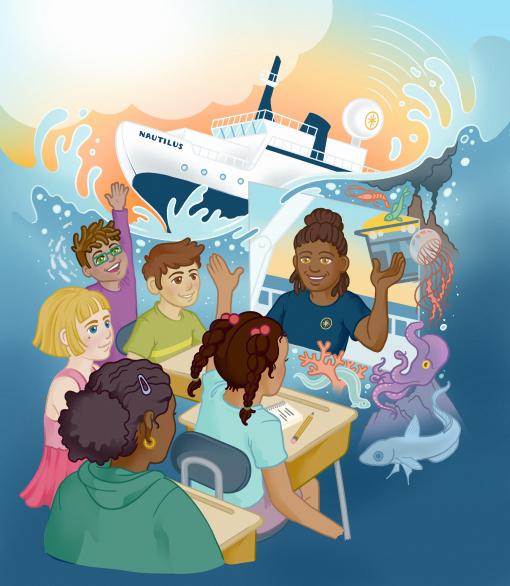 Ocean Exploration Trust
E kipa ana nā mea hoihoi a kupanaha ho'i o ka moana i nā lumi papa, nā ke'ena 'epekema, a me nā papahana kaiāulu
OET is proud to offer our free live ship-to-shore interaction programs in 'Ōlelo Hawaiʻi (Hawaiian language) in addition to programming in English. While E/V Nautilus is working in the waters of the Hawaiian Islands, Papahānaumokuākea Marine National Monument, and the broader Pacific, the team is eager to share experiences and help students build pilina (relationship) with the deep ocean.  To date, over 50 live Q&A sessions have been scheduled with Hawai'i schools and over 35% of those connections reached learners at Hawaiian language immersion schools.
He Kono na ke Aloha, E launa mai me nā 'Aumoana!
Download a flyer and sign up now!
With the focus on uplifting the vibrant resurgence of 'Ōlelo Hawaiʻi (Hawaiian language) and incorporating Hawaiian immersion schools with expeditions, collaborators from OET, NOAA Office of National Marine Sanctuaries, and the Office of Hawaiian Affairs facilitated Papahānaumokuākea Cultural Working Group collaborated many initiatives.  Select projects include Hawaiian naming practices for expeditions creating an original mele (chant) as a reminder of expedition teamsʻ responsibility as guests working in some of the most sacred spaces for Kānaka ʻŌiwi (Native Hawaiians). The teams also worked together on a shared Hawaiian vocabulary for science and technology terms commonly used on the expedition to normalize the language on a modern ocean exploration expedition.