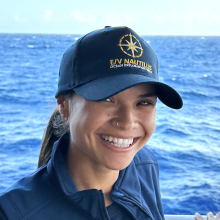 Mahinalani Cavalieri
She/Her
Cultural Liaison
Undergraduate
University of Hawai'i at Mānoa
Tell us about your work/ research. What kinds of things do you do? 
I strive for opportunities that will promote individual growth. I look forward to researching and assisting while on board. In other roles, I am a Community and Corporate Event Coordinator for Kupu, which is a non-profit that aims to inspire youth to serve their communities. I hope to see voyaging inspire collaborative projects, cross-cultural education initiatives, non-profit partnerships, overall inspiration, and ideas!
What sparked your initial interest in your career?
Since adolescence, I've always been inquisitive. It's a wonderful continuous journey of learning!
Who influenced you or encouraged you the most?
 My mentors, nā kumu, and support network of friends and 'ohana continue to encourage me throughout all my endeavors! I am very grateful for them and all those who have come before me.
What element of your work/ study do you think is the most fascinating?
It's fascinating to enter these vast ocean spaces. Voyaging to Papahānaumokuākea is a thrilling opportunity; it's within this realm where unique and rare sightings occur.
How did you get involved with the Nautilus Exploration Program?  
Through my volunteer work with another non-profit, I was informed of the Papahānaumokuākea Marine National Monument expedition and the opportunity to be a contributor. 
What other jobs led you to your current career? 
I've had the humbling opportunity to participate in the Hui Kāpehe Internship by Kaho'olawe Island Reserve Commission (KIRC). This is an internship for Native Hawaiian students to serve and restore Kohemalamalama O Kanaloa. In more recent years, I've volunteered with the Polynesian Voyaging Society. I was able to take a few small vessel fabrication and repair classes through the Marine Education Training Center.
What are your degrees and certifications?
Indigenous Politics/Hawaiian Studies Undergraduate
What are your hobbies?
I enjoy sailing, hot yoga, gardening, and snowboarding. If time and funds permit traveling, I love exploring new places, cultures, and languages.
What advice would you give someone who wants to have a career like yours?
The experiences we collect over the course of our lives, mold and nurture our character. Approach every challenge with a curious mind and compassionate heart. It is our responsibility to learn and observe the rhythm of our natural environment. Then inspire our youth to engage and cultivate their creativity.
I'm excited to discover a deeper connection to our ocean.
Expeditions
Mahinalani participated in the following Ocean Exploration Trust expeditions: