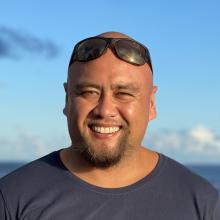 Holden Kalama'ehu Takahashi
Cultural Liaison and Educational Support
Lecturer & Instructional Student Support
University of Hawaiʻi at Mānoa/University of Hawaiʻi Maui College
Tell us about your work/research. What kinds of things do you do?
Ua paʻa ke kūlana laeoʻo ma ka makahiki 2020 nei ma lalo o ke kula ʻo Kamakakūokalani Center for Hawaiian Studies, Hawaiʻinuiākea School of Hawaiian Knowledge, ma ke Kula Nui o Hawaiʻi ma Mānoa. ʻO kaʻu puni ma ka hana ʻimi noiʻi, ʻo ka heluhelu ana i nā moʻolelo o ke au kahiko me nā hana kupanaha o nā akua me nā kānaka o ia au no nā ʻāina like ʻole o Hawaiʻi nei, keu hoʻi kahi kokoke loa ʻo ka noho ʻana i mea e kākoʻo pono ai i ka hana o nā kaiāulu me nā ʻohana ponoʻī o ua mau wahi nei. He hoa kākoʻo kēia no ka ʻōlelo Hawaiʻi a me nā papahana like ʻole e hoʻōla ana i ko kākou ʻōlelo makuahine, e like hoʻi me Ke Kula Kaiapuni Lahaina, ke Kula Nui o Hawaiʻi ma Maui, me kekahi mau hui aloha ʻāina ma ka mokupuni o Maui ma nā moku o Lahaina me Kāʻanapali. Aʻo pū au i papa ʻōlelo Hawaiʻi no ke kaiaulu o Lahaina i mea e kākoʻo ai i ka poʻe makua i koho i ala kūpono e ulu ai kā lākou poʻe keiki ma o ka ʻōlelo makuahine.

I received my Masterʻs Degree in Hawaiian Studies from the Kamakakūokalani Center for Hawaiian Studies, a department of the Hawaiʻinuiākea School of Hawaiian Knowledge at the University of Hawaiʻi at Mānoa in the Spring of 2020. My research interests include Place-Based Hawaiian Ethnohistorical research to inform a better understanding of our genealogical relationship to Hawaiʻi and how that has informed the evolution and sustenance of our culture today and to incorporate this work into a responsible praxis of supporting groups, families, and programs that are geared towards the proliferation of ʻŌlelo Hawaiʻi (Hawaiian Language) and Aloha ʻĀina (a deep-seated sense of nationalism for Hawaiʻi and its people which is articulated through various avenues ranging from self-sustainability and climate consciousness to political advocacy on the grassroots and institutional levels). I am also an advocate and supporter of ʻŌlelo Hawaiʻi and various organizations dedicated to the education of our communities in this medium such as, but not limited to the Kula Kaiapuni o Lahaina, the University of Hawaiʻi Maui College, and other ʻohana (family) and community-based organizations on the island of Maui, specifically in the regions of Lahaina and Kāʻanapali. I also teach a community Hawaiian Language class in the Lahaina community as a means to empower parents and community members that have made the commitment to raise future generations in the Hawaiian Language.

What sparked your initial interest in your career?
ʻO ke aʻo ʻana i ka ʻŌlelo Hawaiʻi me nā moʻolelo o kō kākou poʻe kūpuna ka mea e ulu ai ka hoi i loko oʻu no ka noke mau ʻana i kēia ala a i kēia lā. Mai ka wā i komo mua ai au i ke kula nui o Maui a hiki loa mai i koʻu puka ʻana mai ke kula nui o Mānoa me nā hana e koe mai ana, ʻo ka ʻōlelo Hawaiʻi, ke Aloha ʻĀina, me nā kānaka e ʻauamo pono ana i ke kuleana hoʻōla Lāhui Hawaiʻi nā mea e mau ai kaʻu hana ponoʻī.

Learning ʻŌlelo Hawaiʻi and the various histories of our ancestors was what sparked my initial interest in the career path that I am currently pursuing. From my first introductory courses at The University of Hawaiʻi Maui College through my graduate studies at the University of Hawaiʻi at Mānoa as well as the work that has yet to be done, ʻŌlelo Hawaiʻi, Aloha ʻĀina, and the individuals and collectives that have dedicated their livelihoods to the well-being of our Lāhui Hawaiʻi (Hawaiian Nation) are the inspiration for me to continue my own work in hopes that it will contribute to and honor the works of those that have laid the foundation for us to thrive in our respective areas of study, work, and life in Hawaiʻi.
Who influenced you or encouraged you the most?
ʻO koʻu ʻohana, nā kumu like ʻole, me nā hoa nā mea i hoʻoulu a paipai nui iaʻu mai kinohi a i kēia manawa.

My family, Kumu (teachers, mentors), as well as my friends and colleagues that have inspired and encouraged me from the beginning of my journey and continue to do so to this day.
What element of your work/study do you think is the most fascinating?
ʻO ka ʻike maka ʻana i nā mea makamae like ʻole e loaʻa mai mai loko mai o nā waihona ʻike o nā kupuna ma nā palapala kāhiko, nā hana e mau nei ma kō lākou mau ʻohana a kaiāulu ponoʻī, me nā ʻāina i hoʻokumu ʻia ai ia ʻike nā koʻikoʻi loa o kēia ʻano hana. He mau mea ia e hōʻoia mau ana i ka pono o ko kākou poʻe akua, kūpuna, a ʻohana hoʻi a he mau mea hoʻi e kuleana ai kākou i nā ʻoihana like ʻole e holomua ai ka Hawaiʻi me ona mau ʻāina ponoʻī.

To see and experience our culture as recorded in the vast repositories of our ancestors such as historical documents, practices that continue to this day in families and communities, as well as the ʻāina from which these histories and knowledge originate and are adapted from are the most important and fascinating aspects of this type of work. These elements constantly confirm the validity and inextinguishable claims and rights of our people and culture to these places through the recorded accounts and evidence of of our legendary ancestors and extended families. These elements also serve as a call to action and a reminder of our collective responsibility to the various works that will ensure the continuation of the Hawaiian culture, its people, and the land-base that houses them.
What other jobs led you to your current career?
Nui nā pōmaikaʻi i ili maila ma luna oʻu e paʻa ai koʻu kūlana hana i kēia manawa. ʻO ke komo ʻana i ke kula nui, nā papa, me ka hele ʻana i nā huakaʻi i nā wahi like ʻole o kō kākou pae ʻāina aloha mai Hawaiʻi a hiki loa aku i Papahānaumokuākea nā mea i hiki mai ai i kēia ala. ʻO ka mea hoihoi, ʻo ke aʻo ʻana i kekahi mau mea koʻikoʻi me ka hui ʻana me nā kānaka a hui i hoʻoulu nui iaʻu a i hōʻike mai i nā ala like ʻole e holomua ai ma ka ʻoihana ma waho o ke kula. ʻAʻole pau ka ʻike i ka hālau hoʻokahi, e ʻimi i nā mea e ulu ai ka hoi i loko ou a komo i ka hana a ʻike i nā ʻano e holomua ai kāu hana i mālamalama ai hoʻi kō kākou lāhui aloha o Hawaiʻi nei.

There were many opportunities that I was privileged to experience through my journey as a student and professional within the University of Hawaiʻi system which took me from one end of the archipelago starting on the island of Hawaiʻi and throughout the main Hawaiian Islands to Papahānaumokuākea which informed an understanding of the importance of culture and how our relationships are influenced and enhanced on varying scales through interactions with multiple ʻohana, practitioners, communities, and institutions. I cannot pinpoint specific jobs at this time but a good point to be made is that not all experiences and knowledge can be gained within an institution or on a certain job or career, it is of the utmost importance that we turn to our communities and those who have kuleana, (responsibility and right based upon genealogical connection and prolonged, sustained, vetted involvement with a place, practice, resource and/or community) to get a sense of how we can create change and influence positive change for Hawaiʻi in our respective professions.
What are your degrees and certifications?
Associate's Degree: Liberal Arts, University of Hawai'i Maui College 2013; Bachelor's Degree: Hawaiian Studies, University of Hawai'i at Mānoa 2015; Bachelor's Degree: Hawaiian Language, University of Hawaiʻi at Mānoa 2015; Masterʻs Degree: Hawaiian Studies: University of Hawaiʻi at Mānoa 2020
What are your hobbies?
E ʻimi i nā ala e kākoʻo ai i nā kānaka, ʻohana, a hui hoʻi e hoʻōla ana i nā mea Hawaiʻi.
What advice would you give someone who wants to have a career like yours?
ʻO ka mea mua, e ʻimi i kekahi ʻano hana a ʻike hoʻi e kōkua ana i kou kaiāulu ponoʻī. E launa mai me nā kānaka ma ke ala like a e hoʻokumu a mālama pono i mau pilina me lākou i lilo ʻoukou i ʻano ʻohana ponoʻī e kākoʻo aku a kākoʻo mai i nā wā kūnea a ʻilihune a loaʻa ka lei o ka lanakila. E ʻimi i nā loea o ka ʻoihana e ake ana a e hoʻonaʻauao a hoʻoikaika iāʻoe iho i hiki ai iāʻoe ke komo pū i ka hana kūpono e paʻa ai ke kūlana loea iāʻoe.
How did you get involved with the Ocean Exploration Trust?
Ua kuʻi ka lono no ka hui ʻana o Ocean Exploration Trust(OET) me nā Kula Kaiapuni a ʻōlelo Hawaiʻi hoʻi mai kekahi Kumu Kaiapuni ma Lahaina, a ua makemake e kōkua a kākoʻo hoʻi i ka papahana i launa ai nā kamaliʻi ʻōlelo Hawaiʻi me Papahānaumokuākea, nā ʻāina a moʻolelo hoʻi e pili mai ana, me nā ala e kākoʻo ai ka ʻoihana akeakamai i ua mau mea nei. Nui ka mahalo i ka hana nui o kō NOAA, kekahi mau lālā o ka hui na lākou e mālama i ka ʻike a nohona Hawaiʻi, a me nā limahana o OET nā mea e holo moana like ai au ma kēia huakaʻi.

The news of Ocean Exploration Trust conducting ship to shore interactions with Kula Kaiapuni and other schools that teach Hawaiian Language was shared by a Kula Kaiapuni teacher from Lahaina. The opportunity to contribute to facilitating an introduction of Papahānaumokuākea and aspects of its cultural history as well as the role that scientific research plays in contributing to understanding place and phenomenon to Hawaiian Language speaking children of our communities was how I became involved in this project. I would like to acknowledge NOAA, members of the Cultural Working Group(CWG), and the team at OET that made the arrangements and accommodations to allow me to join the expedition.
Expeditions
Holden Kalama'ehu participated in the following Ocean Exploration Trust expeditions: