STEM Learning Module
No Ka Honua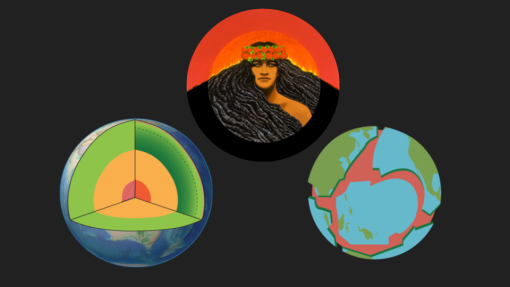 ʻIke Moana Hui
The No Ka Honua lesson consists of three sections that introduce plate tectonics from a Native Hawaiian worldview. 
It opens with a general overview of plate tectonics; the basic vocabulary, environmental processes, and characteristics associated with the process. It then moves into detailing the origin of plate tectonics, its impact on the geological characteristics of the Earth, and how these behaviors and characteristics created the Hawaiian Islands. This section closes with a short quiz for students to test their knowledge base. Section two, Nā Una Honua, builds on the first section and introduces students to the process and distribution of hot spots throughout the world and the Pacific Ocean. This enables students to understand how our islands throughout the Pacific were created and the different ways in which plate tectonics behave in the deep oceans. The lesson then closes with moʻolelo (story) to broaden the students' understanding of plate tectonics by recognizing the ancestral link of this behavior through the Akua process. The Akua process is a Native Hawaiian practice that aligns the physical processes of our environment with the Akua directly associated with those processes. For plate tectonics, this would be an expression of the Akua, Pele. The lesson provides a comprehensive understanding of plate tectonics by weaving together Indigenous and Western Science methodology knowledges.
This lesson was created as part of the ʻIke Moana Project to create resources for Nā Kula Kaiapuni (Hawaiian Immersion schools) that share about the deep sea environment from a Kanaka ʻŌiwi (Native Hawaiian) lens. The ʻIke Moana project team consisted of five (5) ʻŌlelo Hawaiʻi educators from across the state of Hawaiʻi with professional backgrounds in ʻōlelo Hawaiʻi, marine science, geology, and kanaka ʻōiwi science. Lessons were adapted from existing OET education resources, aligned with the science standards of the Ke Kula Kaiāpuni, Hawaiian Immersion school, system, and infused with Hawaiian history and culture to enable students to create their own moʻolelo (stories) and ʻōlelo noʻeau (proverbs) about ocean exploration. 
Disciplinary Core Ideas