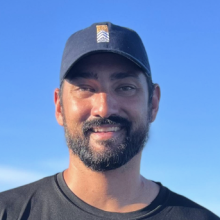 Daniel Kinzer
Lead Science Communication Fellow
Lead Community Technologist
Pacific Blue Studios, Purple Mai'a Foundation
Tell us about your work/research. What kinds of things do you do?
I play at the intersections of bio-cultural conservation, education, technology, exploration, design, and innovation with a strong focus on the ocean and peoples' relationship to it. I have led, facilitated, and taught learning experiences on all 7 continents, including an expedition to Antarctica as a National Geographic Grosvenor Teacher Fellow. I am a certified Biomimicry Professional and hold a master's degree of science in the field of biomimicry. i am also a crew member for the Polynesian Voyaging Society and the sister voyaging canoes, or wa'a kaulua, Hōkūle'a, and Hikianalia; and I work as a team member of the science and community education team for Mālama Maunalua, an O'ahu based non-profit committed to restoring the health of Maunalua Bay. Lastly, I have the joy of working as the Lead Community Technologist at Purple Mai'a Foundation in Hawai'i where I get to bring cutting-edge technologies to local land, ocean, and community based groups and schools and create pathways to regeneration with young people, their teachers and community leaders across the islands.
What sparked your interest in your career?
Wild places, and especially the ocean, have always provided the literal and metaphorical inspiration and teachings that led me on my own wild and adventurous learning journey. My life's work is at the intersection of so many seemingly different things and arenas, but the ocean and the wild has always helped me look for the ways in which all things are connected.
What element of your work/study is the most fascinating?
The most fascinating part of my work right now is working with Native Hawaiian and other indigenous communities to create digital twins and Extended Reality (XR) representations of their territories, places, communities, and cultural artifacts. Building a so-called metaverse on the foundations of ancestral and indigenous perspectives, values, science, and vision invites so many incredible questions. What happens when we utilize our most powerful technologies to understand and amplify the interconnectedness of all things and rediscover how to pay attention to what really matters most?
What other jobs or skills led you to your current position?
My time spent traveling as an international school educator and facilitator gave me the gift of seeing so many different possibilities for how to life, work and play. Surfing and scuba diving around the world connected me deeply to the ocean. Visiting remote places offered me the gift of time in the wild, and created opportunities for connecting with multiple indigenous cultured around the world. My openness to technology, and how it might be developed and utilized in non-traditional ways and in cultures and ecosystems very different from the ones in which the most prevalent global technologies were developed, helped carve out a special niche where technology, nature, and culture are combined in new ways.
What are your degrees and certifications?
Bachelor of Art and Science in Psychology and Neuroscience - Vanderbilt University 2003;
Masters of Science in Biomimicry - Arizona State University 2022;
Wilderness First Responder; PADI Rescue Diver; FAA Part 107 Certified Drone Pilot
What are your hobbies?
I love surfing, sailing, diving, and going on long walks. I also love watching and interacting with wildlife.
What advice would you give someone who wants to have a career like yours?
Find your own teachers and pay attention. Ask a lot of questions. Be open to new experiences. Make your own career based on a unique combination of your interests, skills, relationships and the qualities and needs of your community and place.
Expeditions
Daniel participated in the following Ocean Exploration Trust expeditions: