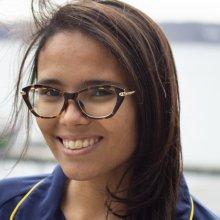 Yashira Cruz Rodriguez
She/Her
Communications Lead
Graduate Student / Freelance Science Communicator
University of Central Florida
Tell us about your work/research. What kinds of things do you do?
I'm a graduate student in the Instructional Design and Technology Master's program at the University of Central Florida. My degree focuses on harnessing learning theory and research, technology, and design principles to develop meaningful learning experiences.
Outside of school, I work as a freelance marine educator, instructional designer, and consultant with a variety of environmentally focused organizations. This has allowed me to take the role of Lead Translator for the STEM Learning Module resource suite, now available in Spanish. I'm also very excited to get the chance to sail aboard the E/V Nautilus as a Science Communications Lead.
What sparked your initial interest in your career?
My interest in becoming a marine biologist and educator sparked from an educational trip I took when I was 16 years old to a coral reef off the coast of Fajardo, Puerto Rico. The wonderful marine life that surrounded me in combination with the wits, passion, and drives of the educators leading the summer institute that I was a part of, led to this sudden life decision. The educators fostered our curiosity and empowered a group of teenagers to use their critical thinking skills in order to connect all there was in the coast, from the coral reefs to the seagrass beds, and the mangrove forest to the fishermen's village built close to them. It was through them that I learned about the interconnectedness of land and sea through watersheds. Those individuals, Gretchen Guzman and Lesbia Montero have mentored me one way or another ever since that summer, and thanks to them, I have aspired to have a similar effect in young audiences through my work.
Who influenced you or encouraged you the most?
My parents have always modeled hard work and the grit needed to persevere in my goals. They also fostered my curiosity and hunger for knowledge from a young age. I'm very grateful for their unwavering support. My mentor, the late Gretchen Guzman was my main guide in the field of science. She encouraged me to be a strong leader while remaining curious, kind, and open-minded.
What element of your work/study do you think is the most fascinating?
The most fascinating part about my work is being able to open someone's mind to new ecosystems, ideas, and natural phenomena. Creating opportunities for meaningful connections between people and nature and facilitating these experiences gives me a sense of purpose. I live for the "aha!" and "I see things differently now" moments. Of course, there is no shortage of fascinating moments when bringing people along while exploring the seafloor. Exploring the unknown and seeing things no one has ever seen for the first time will always continue to move me.
What other jobs led you to your current career?
Knowing that I wanted to be involved in marine science education from the beginning of my bachelor's degree in coastal marine biology, I sought any opportunity available to teach during my free time. As an undergrad, I worked as a field trip guide with the Sea Grant College Program, volunteered for university outreach events, and worked as a STEAM summer camp trainer with a nonprofit called G-Works Inc. I also conducted research focused on plankton, public perceptions of fisheries in Puerto Rico and ghost crab distribution in the Gulf of Mexico. Since 2017 when I graduated college, I have continued to work in the intersection of research and education in one capacity or another. This is why I am now pursuing a formal degree in the field of instructional design. 
What are your degrees and certifications?
Bachelor of Science in Coastal Marine Biology (2017)
Master of Arts in Instructional Design and Technology (e-learning track) (expected 2023)
Open Water Diver
What are your hobbies?
I love cooking and experimenting with plant-based recipes, traveling, walking in nature, learning about new topics, and painting (which reminds me that it is okay to pursue hobbies that make you happy even if you are not great at them?).
How did you get involved with the Nautilus Exploration Program?
I have known about the Nautilus for many years and often watched live streams while working on college homework. Being able to witness exploration and discovery while being on shore was fascinating to me. In 2018, I found out about the Science Communication Fellowship and decided to apply. Lucky for me, after an application process and interview, they invited me to join as a Science Communication Fellow in 2019. I have been fortunate to be an active collaborator with the Ocean Exploration Trust ever since.
What advice would you give someone who wants to have a career like yours?
1: Be hungry for knowledge and actively seek new learning experiences! You will find yourself outside of your comfort zone many times and that is an indication of growth.
2: Assess which skills are needed to be a good communicator (i.e.: breaking difficult topics down, writing, public speaking, digital content design, interdisciplinary collaboration, etc.) and seek opportunities to implement them through passion projects, internships, and volunteering. Don't be afraid to develop connections with role models within the marine science and education disciplines. Having the guidance of someone that has already walked a similar path can make a big difference and most often, people are happy to help!
3: No matter your career goals, remain persistent, believe in yourself, and always go back to the source of your curiosity and passion to keep you going.
Expeditions
Yashira participated in the following Ocean Exploration Trust expeditions: