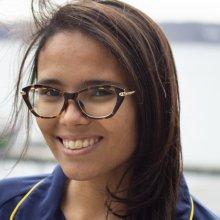 Yashira Cruz Rodriguez
Science Communication Fellow
Marine Science Educator
Smithsonian Marine Ecosystems Exhibit
Tell us about your work/research. What kinds of things do you do?
The marine science education team at the Smithsonian Marine Ecosystems Exhibit is at the forefront of public interactions, K-12 programming, outreach dynamic development and social media content creation for the Aquarium. My daily activities are constantly changing, depending on the season. Winter and fall are focused on developing interactive exhibits, creating new educational materials and leading public tours. The spring brings more school programs, outdoor outreach activities, family programming and a lot of planning for a summer camp season spent outdoors while teaching about Florida's coastal ecosystems.
I was also happy to work with OET as the Lead Translator for the STEM Learning Module resource suite, now available in Spanish.
What sparked your initial interest in your career?
My interest in becoming a marine biologist and educator sparked from an educational trip to a coral reef off the coast of Fajardo, Puerto Rico. The wonderful marine life that surrounded me in combination with the wits, passion, and drive of the educator leading the summer institute that I was a part of, led to this sudden life decision. I was a 16-year-old only led by curiosity and the desire to explore the natural resources that surrounded my island at that time. The educator fostered that curiosity and empowered a group of teenagers to use their critical thinking skills in order to connect all there was in the coast, from the coral reefs to the seagrass beds, and the mangrove forest to the fishermen village built close to them into the idea of a watershed. That person became my mentor and ever since that summer I have aspired to have a similar effect in young audiences!
Who influenced you or encouraged you the most?
Although my parents are not scientists, they have always pushed me to strive for truth and hard work in order to reach my goals. My mentor Gretchen Guzman was my main guide in the field of science. She encouraged me to be a strong, collaborative and inquisitive person with an open mind. They are the three people whose footsteps I aspire to follow in my journey to becoming a great educator and communicator.
What element of your work/study do you think is the most fascinating?
The most fascinating part about my work is being able to open someone's mind into the marine world and concepts they had no idea existed. Creating spaces for free choice learning and guiding people through their experience both indoors and outdoors creates the most satisfying feeling in me. Whenever I get the opportunity to interact with someone that has learned something from me and can transfer it into teaching others or can even express a newly found appreciation for an organism and its place within their ecosystem, I can confirm that my work matters.
What other jobs led you to your current career?
Knowing that I wanted to be involved in marine science education from the beginning of my bachelor's degree, I sought any opportunity available to teach during my free time in college. I worked as a field trip guide with the Sea Grant College Program, volunteered for university outreach events, and worked as a STEAM (science, technology, engineering, art, and mathematics) summer camp trainer with a nonprofit called G Works Inc almost every summer after graduating high school. I also tried to dive into ecology by briefly working on plankton research, assessing public perceptions of fisheries in Puerto Rico and by participating as an undergraduate research fellow with the Ecological Society of America, which lead to a two-month study of ghost crabs in the Gulf of Mexico. Although the ecology research route did not fascinate me as much as science education, I certainly acquired many useful skills and a lot of knowledge that could be transferred into communicating scientific work to general audiences.
What are your degrees and certifications?
Bachelor of Science in Coastal Marine Biology - University of Puerto Rico Humacao
What are your hobbies?
I love reading, meditating, taking walks along the beach and cooking.
How did you get involved with the Nautilus Exploration Program?
I have known about the Nautilus for many years and often watched live streams while working on college homework. Being able to witness exploration and discovery while being on shore was fascinating to me. This year I received an email announcing that applications were open for the Science Communication Fellowship and decided to apply. I was fortunate enough to be selected as one of the Science Communication Fellows.
What advice would you give someone who wants to have a career like yours?
Be open to learning experiences by seeking them in any way possible! The art of teaching and communicating comes in a way from being a good learner and listener. Asses which skills are needed to be a good communicator such as writing, public speaking, digital content design, event organization or interdisciplinary collaboration and seek opportunities to implement them. Get involved in student-led organizations, volunteer, encourage your classmates and professors to collaborate in extracurricular projects and seek role models within the marine science and education disciplines. Having the guidance of someone that has already walked your same path can make a big difference when it becomes difficult to think outside the box. The most important thing of all would be to remain persistent and to always go back to the source of your curiosity and passion for the career you have chosen.