STEM Learning Module
Living on a Chimney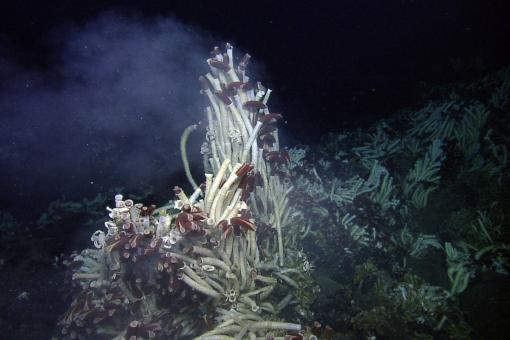 Ocean Exploration Trust
Introduce students to ecological relationships and organisms existing in one of the most extreme habitats on Earth: deep-sea hydrothermal vents. Using creature cards to construct a model food web with trophic levels, trophic positions, and ecological niches, students will determine the spatial distribution of organisms across a hydrothermal vent community based on provided evidence.
---
Viviendo en una chimenea
Presente a sus alumnos los organismos y las relaciones ecológicas que existen en uno de los hábitats más extremos de la Tierra: las fuentes hidrotermales de aguas profundas. Utilizarán tarjetas de criaturas, provistas en el módulo, para construir un modelo de red alimentaria con niveles y posiciones tróficas, así como nichos ecológicos. Basándose en la evidencia provista, los alumnos determinarán la distribución espacial de los organismos en la comunidad de la fuente hidrotermal.
Objectives & learning outcomes
Students will:
describe the role of chemosynthesis in a hydrothermal vent community.
create a food web to describe trophic levels in a seafloor ecosystem.
analyze species distribution and describe the concept of ecological niche based on evidence.
Los y las estudiantes:
describirán la función de la quimiosíntesis en una comunidad de fuente hidrotermal. 
crearán una red alimentaria para describir los niveles tróficos de un ecosistema del fondo marino.
analizarán la distribución de especies y describirán el concepto de nicho ecológico basándose en evidencia.
Disciplinary Core Ideas