STEM Learning Module
A Sinking Feeling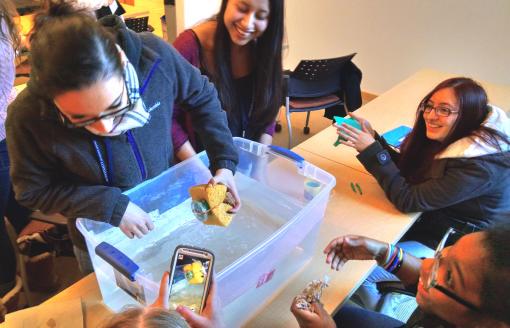 Ocean Exploration Trust
Use the "Think, Try, Make, Redesign" engineering model to build a neutrally buoyant vehicle from everyday materials like ketchup packets, washers, spare change, and rubber bands. In this perseverance-building challenge, students explore material properties to explore what makes something float, sink, or find neutral buoyancy. Students will learn how buoyancy impacts Exploration Vessel Nautilus and our ROVs as platforms for exploration.
---
¡Nos estamos hundiendo!
Utilice el modelo de ingeniería "piensa, prueba, crea, rediseña" para construir un modelo de un vehículo con flotabilidad neutra a partir de materiales cotidianos como paquetes de kétchup, arandelas, cambio en monedas y bandas elásticas. En este reto de desarrollo de perseverancia, los estudiantes explorarán las propiedades de los materiales para descubrir qué hace que algo flote, se hunda o encuentre flotabilidad neutral. Los estudiantes aprenderán cómo la flotabilidad afecta al buque de exploración Nautilus y nuestros ROV, como plataformas para la exploración.
Objectives & learning outcomes
Students will: 
use the engineering design process to create and revise a model product.
be able to discuss surface area and density as well as those factors' relationships to buoyancy.
understand the difference between positive, negative, and neutral buoyancy.
Los y las estudiantes:
utilizarán el proceso de diseño de ingeniería para crear y revisar un producto modelo.
podrán examinar área de superficie, densidad y cómo están relacionadas a la flotabilidad. 
entenderán la diferencia entre flotabilidad positiva, negativa y neutra.
Disciplinary Core Ideas
Media heading

Lesson Set-up Video