STEM Learning Module
Rubberband Thrusters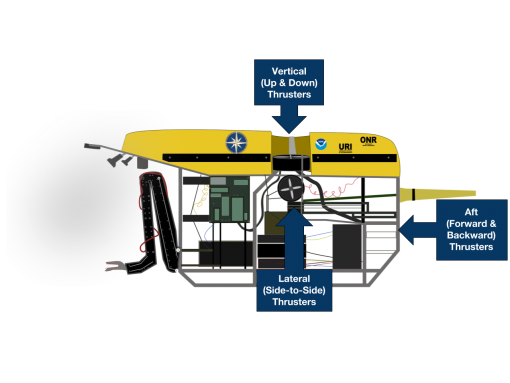 Ocean Exploration Trust
Propeller-driven thrusters maneuver ROV Hercules above the seafloor. Students will design rubberband-powered thrusters to race as fast as possible along a zipline track. Documenting and comparing designs challenges groups to identify the most successful solutions. Use this module as an inquiry-driven introduction to forces and motion or to the engineering design process. The module includes animations of ROV thrusters and a basic construction timelapse video for educators or younger students.
---
Propulsores de gomas elásticas
Un sistema de propulsión con hélices impulsa al ROV Hércules por encima del fondo marino. En este módulo, los y las estudiantes diseñarán propulsores con bandas elásticas, que corran a la mayor velocidad posible a lo largo de una pista de tirolesas (zipline). Documentar y comparar diseños los retará a identificar las soluciones más exitosas. 
Use este módulo como una introducción, motivada por la investigación, al tema de la fuerza, el movimiento y el proceso de diseño de ingeniería. El módulo incluye animaciones de los propulsores de los vehículos de operación remota (ROV) y videos de construcción básica para educadores y estudiantes.
Objectives & learning outcomes
Students will:
practice the engineering design process. 
discuss the basics of propulsion using STEM vocabulary.
produce a thruster model powered by a rubber band and propellor to race down a racetrack as fast as possible.
understand how modifications to their design produce changes in the speed it can move.
Los y las estudiantes:
entenderán el proceso de diseño de ingeniería.
podrán discutir los conceptos básicos de propulsión utilizando vocabulario STEM. 
producirán un modelo de propulsor impulsado por una goma elástica y una hélice, para desplazarse lo más rápido posible a lo largo de una pista de carreras. 
entenderán cómo modificar su diseño produce cambios en la velocidad a la cual se puede mover el modelo.
Disciplinary Core Ideas
Media heading

Lesson Set-up Video