STEM Learning Module
Save Yourself - Sacrificial Anodes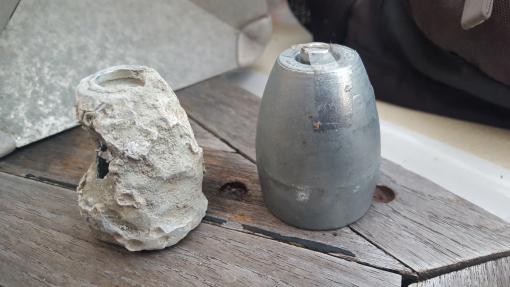 Ocean Exploration Trust
Students will investigate how rates of chemical reaction rates - galvanic corrosion - vary among different metal types with and without the addition of sacrificial metal. This is a redox reaction example suited well for upper-level students. Students will learn how anodes protect E/V Nautilus and the ROVs Hercules and Argus from corrosion.
---
Ánodos de sacrificio
En este módulo, los alumnos investigarán cómo las velocidades de las reacciones químicas —específicamente de la corrosión galvánica– varían entre diferentes tipos de metales, con y sin la adición de metales de sacrificio (o ánodos galvánicos). Este ejemplo de reacción redox es apropiado para alumnos de nivel superior o secundaria. Aprenderán cómo los ánodos protegen al E/V Nautilus y sus vehículos de operación remota (o ROV) de la corrosión.
Objectives & learning outcomes
Following this activity, students will:
understand and explain the concept of corrosion, its causes, and discuss methods used to prevent corrosion.
understand what sacrificial anodes are and how they function.
understand and explain why sacrificial anodes are vital to the operation of Exploration Vessel Nautilus and its ROVs Hercules and Argus.
Luego de esta actividad, los y las estudiantes:
comprenderán y explicarán el concepto de corrosión y sus causas, y discutirán los métodos que se utilizan para prevenirla. 
comprenderán lo que son los ánodos de sacrificio (o ánodos galvánicos) y cómo funcionan. 
comprenderán y explicarán por qué los ánodos de sacrificio son vitales para el buque de exploración (E/V, por sus siglas en inglés) Nautilus y sus ROV: Hércules y Argus.
Disciplinary Core Ideas