STEM Learning Module
Ecosystem Monitoring Series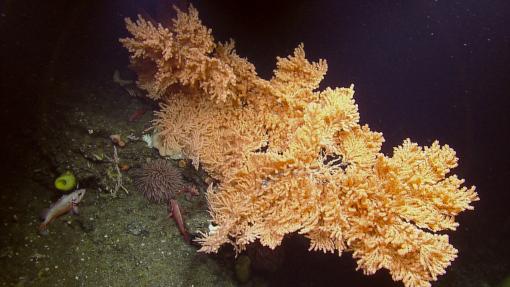 Ocean Exploration Trust
This lesson sequence introduces students to the concept of ecosystem monitoring, underwater mountain — seamounts —ecosystems, and the equipment E/V Nautilus uses to aid international scientists in tracking changes in environments. Students will demonstrate their understanding by designing their own monitoring protocol for an offshore seamount.
Lesson segments / Provided student handouts 
Warm-up Discussion 
Introduction to Ecosystem Monitoring
Seamount Ecology 
Oceanographic Research with E/V Nautilus
Seamount Monitoring Challenge
Monitoring Plan Revision Prompts
---
Serie de lecciones de monitoreo de ecosistemas: los montes submarinos
Secuencia didáctica y materiales provistos para los alumnos:
Discusión de calentamiento
Introducción al monitoreo de ecosistemas
Ecología de montes submarinos
Investigación oceanográfica con el E/V Nautilus
Reto de monitoreo de un monte submarino
Sugerencias para la revisión del plan de monitoreo
Objectives & learning outcomes
Long-term ecosystem monitoring builds rich data sets that show change over time.
Monitoring protocols must be thoughtfully set-up to standardize long-term data collection and limit human error.
Los y las estudiantes:
aprenderán cómo el monitoreo de ecosistemas a largo plazo produce sets de datos ricos en información, que muestran los cambios que ocurren a través del tiempo.
comprenderán las razones por las que los protocolos de monitoreo deben ser cuidadosamente desarrollados para estandarizar la recolección de datos a largo plazo y limitar los errores humanos.
Disciplinary Core Ideas