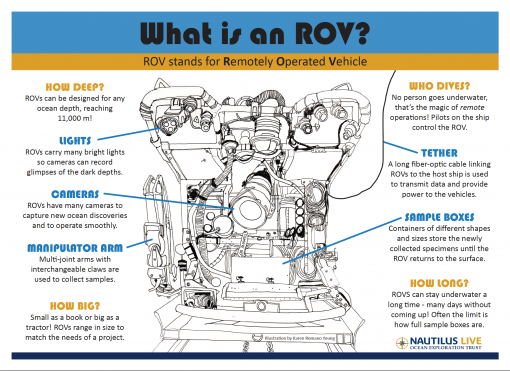 Ocean Exploration Trust
Ready to dive into learning more about Remotely Operated Vehicles and underwater robots? 
Check out the resources below to develop key science and engineering design skills with the fun of ROV Hercules and Argus. Whether you're looking for a quick at-home challenge or a more extensive engineering design project, OET has over 100 STEM activities and lessons available right now. Here are some of our ROV-themed favorites!
Great for any age: 
K-5 activity suggestions:
Tools of the Trade

- learn about ROVs and their autonomous related technology AUVs

Build-a-Bot

- Design your own ocean exploration robot our of LEGO bricks or other household materials - check out the inspiration slidedeck as research or let your creativity go free.
6-8 activity suggestions:
A Sinking Feeling

- Use materials found near you to build a robot which doesn't float or sink but can hover neutrally buoyant in a bowl, sink, or tub.

Tether Trigonometry

- Test your right triangle trigonometry skills by solving for the distances ROVs

Hercules

and

Argus

can work apart during dive operations.

Suck It Up

- Without using your mouth, can you design a suction sampler like the vacuum on ROV

Hercules?

Put your design skills to the test!
9-12 activity suggestions 
Give Hercules a Helping Claw

- Use the engineering design process and everyday materials students will build your own ROV arm with a claw capable of grasping and releasing different objects.

Rubberband Thrusters

-  Design a rubber band-powered thruster machine to race as fast as possible along a zipline track, just like propellers maneuver ROV Hercules above the seafloor. 

Work it with Circuits

- learn to build a basic circuit using conductive and resistive materials. Try the three-part sensor design lesson series for a bigger challenge!
Share your learning
We want to see your creativity in action and how you bring the deep ocean into your learning! 
Share how you've tried these lessons via #InspiredByNautilusLive or

through this feedback form

for the chance to be featured on the website.