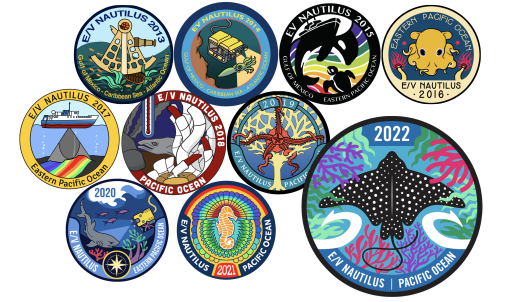 Credit
Ocean Exploration Trust
Your artwork could go on an ocean adventure aboard Exploration Vessel Nautilus!
Students ages five to eighteen (5-18) can submit original artwork to be considered for the official Nautilus Expedition Season Patch and Sticker. The patch and sticker will be worn and displayed by members of the Corps of Exploration during our annual exploration cruises and represent the expedition season for the team.
The patch contest is now open for the 2023 season!  Submit your original design by February 1, 2023. Designs can be submitted either online or by mail. The winning submission will win a prize pack of patches and stickers of their design. 
In 2023, the Corps of Exploration will explore the Pacific Ocean from Hawaiʻi to the Pacific Remote Islands Marine National Monument including Palmyra Atoll and Johnston Atoll, from Papahānaumokuākea Marine National Monument north into British Columbia, Canada. Patch designs should be inspired by one or more of these themes: 
Exploration: Did you know 95% of the ocean still remains unexplored!?
Science: geology, marine biology, or chemistry
Technology: the ship Nautilus, ROVs Hercules, Argus, Little Hercules & Atalanta, or multibeam mapping sonar
Exploring all ocean depths from the shore to the abyss
Role modeling for careers in science, technology, engineering, math, the arts, and maritime fields with a diverse team of explorers.

Credit

Ocean Exploration Trust
Past Contest Winners & Official E/V Nautilus Expedition Patches
2022 - Selin Ergin
2021 - Elissa Ornelas
2020 - Amber Boothby
2019 - Mihaila Owen
2018 - Bella Miller
2017 - Sintayehu Shannon
2016 - Gustopher Miller
2015 - Wan Lok Yiu
2014 - Krisheree Shimamoto
2013 - Catherine Tadlock
2012 - Madeline Gates
2011 - Emma Tarpley
Related Content
Opens a document in a new window
Opens a PDF document in a new window
Opens an external Google Doc in a new window
Opens an external Google Doc in a new window
Opens an external Google Sheet in a new window
Opens external Google Slides in a new window