Blog:
Submersión a las profundidades: A Dive into OET STEM Modules en Español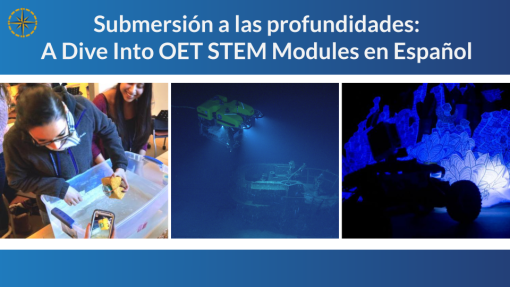 Ocean Exploration Trust
With over 3.7 million Spanish-speaking learners in the US school system and millions more around the world, there is a need for complete libraries of multilingual deep ocean resources available for teachers. To increase outreach to Hispanic Latinx students with a passion for the ocean and curiosity about the deep-sea, Ocean Exploration Trust recently translated their inquiry-driven, hands-on lesson suite of 31 STEM Learning Modules to Spanish. Led by ocean explorer, educator, and graduate student Yashira Cruz-Rodriguez, this translation effort built one of the first deep-sea-focused science, technology, engineering, math, and career resource lesson libraries available for Spanish-speaking learners.
The hands-on lessons, OET's STEM Learning Modules take complex and current math, biology, physical science, Earth science, archaeology, and coding topics from the research and operations conducted aboard Exploration Vessel Nautilus and turn them into resources that can be accessed by anyone, with materials most teachers will already have readily available in their school. This video is a session from the 2021 National Marine Educators Association conference previewing these lessons in Spanish and English along with the highlight and career profile video library captioned in Español.
Presenters share insights about successes building Latinx communities' connection to ocean science, including ship-to-shore presentations for K-20 students, museums, and professional development workshops for educators based in Puerto Rico. Get equipped with new multilingual resources for their instruction and details for how to engage their learners in research science livestreams occurring 24/7 from sea throughout the school year.
Learn more about the 2021 NMEA conference here https://www.marine-ed.org/conference/...