Using the power of telepresence, Ocean Exploration Trust connects learners around the world with exciting events diving into the topics, technologies, and careers in ocean exploration. Programs introduce learners to professional explorers from the Corps of Exploration and bring the latest discoveries from expeditions straight to audiences whether at home or in school.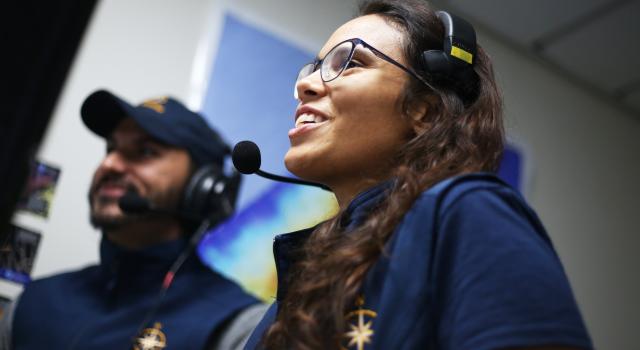 Meet the Team student and career features are interactive opportunities to meet early career professionals who study and work in ocean science, technology, and engineering. Learn about their pathways and explore the many possibilities in STEM careers!
From Shore to the Abyss Project Panels bring learners to coastal ecosystems to learn about exciting research projects focused on the conservation of coral reefs made possible through OET's expedition experience alongside research teams from the National Geographic Society. Learn about these teams' passions for stewardship, cutting-edge technologies, and citizen science techniques!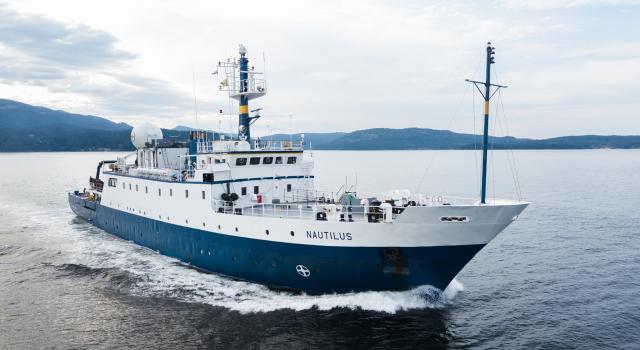 Next on Nautilus expedition overviews feature the latest updates from the 2022 Nautilus expedition in the Central Pacific. Join our team to recap thrilling discoveries and preview science and technology developments you can see on Nautilus Live.
Upcoming Events
From Shore to the Abyss Project Panel:
Tuesday, September 27, 2022 — 8:00 am Hawaii • 11:00 am Pacific • 2:00 pm Eastern
Whether it's the elegant undulations of a jellyfish or the kaleidoscopic color changes of a cephalopod, nature is the true master of design. We have much to learn from it. In this interactive live discussion, join scientists and Hawaiian experts as they share the lessons we are learning and have yet to learn from nature's designs.
Learn how sharks and marine mammals and all of nature are inspiring the designs of the future in products, communities, and digital spaces with Daniel Kinzer, Dr. Keolu Fox, Dr. Molly Gabler - Smith, and Dr. Frank Fish as they share their passions for stewardship of nature, community knowledge, and the conservation of coral reefs.
View Past Events
From Shore to the Abyss Project Panel:
Friday, September 23, 2022 — 8:00 am Hawaii • 11:00 am Pacific • 2:00 pm Eastern
The underwater soundscape is a critical snapshot of the world underneath the waves. Sound is essential for marine life survival - especially for marine mammals. Join our LIVE event and learn from scientists aboard E/V Nautilus how we're investigating whale and dolphin vocalizations deploying underwater microphones in Hawaiian waters during our From Shore to the Abyss Program with the National Geographic Society.
Join OET and NGS marine mammal project team members Carissa Cabrera, Dr. Matthias Hoffmann Kuhnt, Abel Ho, and Dr. Adam Pack and get your questions answered in this interactive Project Panel event to learn more about the importance of audio in ecosystem health.
From Shore to the Abyss Project Panel:
Tuesday, September 20, 2022 — 8:00 am Hawaii • 11:00 am Pacific • 2:00 pm Eastern
Sharks around the world are in decline and conservationists must find new ways to monitor their populations. Enter SharkPulse, a new tool that uses artificial intelligence (AI) to simplify and speed up shark identification to help build a worldwide observer network where everyone can take the pulse of global shark populations. Join the geniuses that turned this tantalizing tech into a reality and learn how you too can join their efforts to save sharks.
Join OET and the National Geographic Society shark project team members Kelly Koller, Dr. Sara Khalid, Jeremy Jenrette, and Dr. Francesco Ferretti in this first of the From Shore to the Abyss Project Panel live event.
Explore from Home:
Tuesday, June 28, 2022 — 8:00 am Hawaii • 11:00 am Pacific • 2:00 pm Eastern
In this virtual session, the Ocean Exploration Trust joined Ocean Wise live from their 2022 expedition aboard the Nautilus. Featuring Science Manager Taylorann Smith, the team discuss deep sea discoveries, life on the Nautilus, and microplastics in the deep ocean.
Ocean Wise's virtual educational programming is part of the Waves of Change program made possible with funding from the Government of Canada.
Wednesday, December 15, 2021 — 10:00 am Hawaii • 12:00 pm Pacific • 3:00 pm Eastern
The United States' exclusive economic zone in the Central Pacific is dotted with hundreds of volcanic seamounts that are home to important ecosystems and valuable mineral resources. Join NOAA's Ocean Exploration Cooperative Institute partners from the E/V Nautilus as we make the first exploration of the region around Chautauqua Seamount to uncover their secrets and learn how we explore, why we explore, and where we explore volcanoes under the sea.
The Ocean Exploration Cooperative Institute (OECI) is hosting a six-part series of monthly OECI presentations as part of the NOAA Science Seminar Series. This final seminar, "NOAA OECI: Exploring Volcanoes Under the Sea", will be streamed live, at 3pm ET on 12/15/2021.
Next on Nautilus:
Friday, December 10, 2021 — 11:00 am Hawaii • 1:00 pm Pacific • 4:00 pm Eastern
Less than 150 miles west of Hawai'i sits a chain of seamounts completely unsurveyed by ROVs or high-resolution mapping! For 12 days in December, the Nautilus team invites you to join expedition Luʻuaeaahikiikekualonokai to explore the Chautauqua seamounts - a chain of seven undersea mountains to collect geologic samples to identify the history and learn about the diverse biological communities who make their homes on these slopes. Join Expedition Leader Allison Fundis and Lead Scientist Dr. Adam Soule live from E/V Nautilus in the Central Pacific for this interactive Q&A event to discuss the mission and experience of conducting first-of-its-kind exploration in this area.
The expedition name -- Luʻuaeaahikiikekualonokai -- represents the journey to and the work in the kualono kai, or the sea ridges in the Chautauqua seamounts. Located south of the Hawaiian Islands, the seamounts may hold key information to deepen our understanding of Hawaiʻiʻs volcanic history. Moreover, like a kualono, or ridge that offers protection to those within its domain, the Chautauqua seamounts offer important marine habitats that protect various ocean organisms. As we go to sea in this region, we gratefully acknowledge generations of indigenous Hawaiians and today's stewards of these lands and waters.