Using the power of telepresence, Ocean Exploration Trust connects learners around the world with exciting events diving into the topics, technologies, and careers in ocean exploration. Programs introduce learners to professional explorers from the Corps of Exploration and bring the latest discoveries from expeditions straight to audiences whether at home or in school.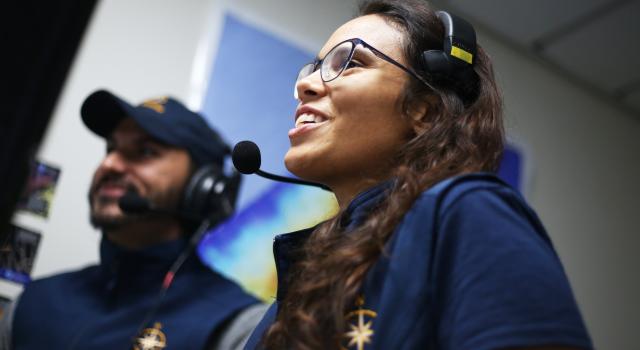 Meet the Team student and career features are interactive opportunities to meet early career professionals who study and work in ocean science, technology, and engineering. Learn about their pathways and explore the many possibilities in STEM careers!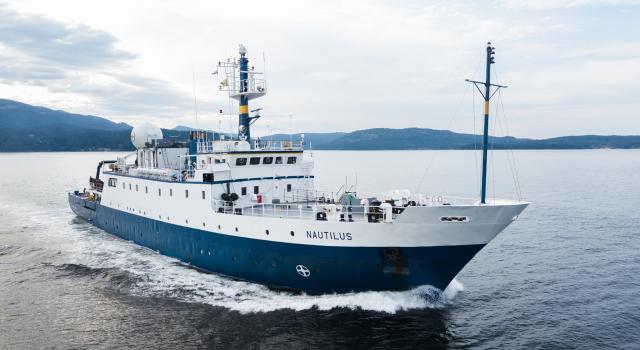 Next on Nautilus expedition overviews feature the latest updates from the 2021 Nautilus expedition in the Eastern and Central Pacific. Join our team to recap thrilling discoveries and preview science and technology developments you can see on Nautilus Live.
Upcoming Events
Next on Nautilus:
Wednesday, August 11, 2021 — 11:00 am Hawaii • 2:00 pm Pacific • 5:00 pm Eastern
Preview the August E/V Nautilus expedition with Ocean Networks Canada in a live conversation with the scientists, engineers, and students aboard the ship in their first days at sea. For a month, the team will investigate the abyssal plain, hydrothermal vents, and conduct dual-ship operations deploying and installing Earth-observing instruments for an ocean observatory across the Juan de Fuca tectonic plate. Bring your questions and join the conversation about new ocean technology and the engineering challenges of working on a geologically active seafloor! 
View Past Events
Next on Nautilus:
Monday, July 19, 2021 — 9:30 am Hawaii • 12:30 pm Pacific • 3:30 pm Eastern
Off the coasts of Oregon, Washington, and Northern California lies the Cascadia Margin, an area where E/V Nautilus and other research vessels have mapped and found over 3,500 bubble plumes from methane seeps. A team arrives on Nautilus in days led by Dr. Tamara Baumberger and Susan Merle to study these environments never before seen with cameras. 
Next on Nautilus:
Tuesday, July 13, 2021 — 11:00 am Hawaii • 2:00 pm Pacific • 5:00 pm Eastern
Tiny creatures can play an oversized role in ocean functions! Join expedition scientists Dr. Joan Bernhard, Chris Powers, and artist Terry Conrad as they discuss why foraminifera — forams for short — are important in understanding the health and chemical makeup of the ocean. Learn about plans to collect these tiny organisms with ROV Hercules, what we can learn from forams, why we're searching for them across the Santa Barbara Basin, and what fascinating art was inspired by capturing these organisms.
Wednesday, June 16, 2021 — 11:00 am Hawaii • 2:00 pm Pacific • 5:00 pm Eastern
Did you know 95% of the Great Lakes are still unmapped in modern high resolution? Returning to the Great Lakes after a 2019 expedition, OET has teamed up with Thunder Bay National Marine Sanctuary in northern Michigan for a lakebed mapping expedition using the research ASV BEN from the Center for Coastal and Ocean Mapping at the University of New Hampshire (CCOM UNH). Join TBNMS Research Coordinator Stephanie Gandulla, ASV Research Lead Val Schmidt, and Mapping Coordinator Erin Heffron to discuss how this 3-week deployment in the lakes helps advance exploration, develop new technology, and make important discoveries essential to preserving resources in the only freshwater national marine sanctuary in the United States. Lakebed mapping will cover areas never scientifically surveyed before and determine areas of interest for future ROV and scientific scuba dives!
Tuesday, June 8, 2021 — 11:00 am Hawaii • 2:00 pm Pacific • 5:00 pm Eastern
World Ocean Day meets the Great Lakes! Ocean Exploration Trust is beginning the 2021 season in Michigan on Lake Huron for a 3-week expedition. Join us for a look back into the history of scientific exploration in Thunder Bay National Marine Sanctuary including work with OET team members 20 years ago to discover some of the 80+ shipwrecks protected in this area. Bring your questions for a live conversation with Sanctuary Superintendent Jeff Gray, Expedition Leader Dwight Coleman, Mission Support Katie Lohr, and Education Coordinator Sarah Waters to learn how Michigan gained a National Marine Sanctuary, why this region is important to protect, and the many ways you can get involved in this sanctuary and others near you!