OECI Technology Demonstration: Nereid Under Ice (NUI) Vehicle
September 23 – 30, 2021
NA132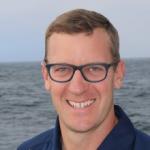 Navigator
Expedition Leader
This is the second of two expeditions to support the testing of novel or emerging capabilities with autonomous technologies through the NOAA Ocean Exploration Cooperative Institute (OECI). The goal of this nine-day expedition is to test the capabilities of the Nereid Under Ice (NUI) vehicle — a hybrid autonomous underwater vehicle (AUV) and remotely operated vehicle (ROV) — and acoustic communications with ROV Argus.  These technology trials will be conducted at two known sites of interest off Southern California, in the traditional and modern lands and waters of the Tongva, Kizh, and Chumash peoples. 
NUI was developed by engineers at the Woods Hole Oceanographic Institution as a vehicle originally intended to explore far under ice shelves. The importance of this expedition lies in testing the ability of NUI to operate in different modes, from fully autonomous (e.g. mapping on a pre-set mission), to semi-autonomous (e.g. receiving a new mapping mission via optical modem), to fully controlled via an optical modem on ROV Argus to collect push core samples. This proof-of-concept operations test will lead to new methodologies or "concepts of operations' for exploring in the future.
The first proposed dive area is the Santa Monica Basin seep site that E/V Nautilus routinely uses as a sonar testing target to determine the water column backscatter capabilities of the EM302 echosounder are functioning on annual shakedown tests. The second target at Osborn Bank at more complex terrain, will locate and image submerged caves amongst ancient shoreline features at depths down to 80 meters. 
The NOAA OECI is a consortium of academic and non-academic partners including the University of Rhode Island, Woods Hole Oceanographic Institution, University of New Hampshire, University of Southern Mississippi, and Ocean Exploration Trust.