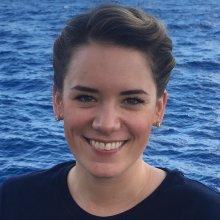 Madison Dapcevich
She/Her
Communication Lead
Reporter
Snopes
Tell us about your work/research. What kinds of things do you do?
My expertise in science communication landed me a role as the Digital Content Coordinator for the Ocean Exploration Trust (OET). My role includes communicating the complex and fascinating work that our team conducts while aboard Nautilus Live and sharing that information in the off-season. This work brings me in contact with students, researchers, and marine-fascinated followers around the world. In addition to my role with OET, I work as a full-time Science Reporter for the fact-checking website Snopes, I most enjoy reporting on policy, climate, and environmental and marine science -- but the fun doesn't stop there. Working for such a lively and accessible publication, I have been known to cover everything from bizarre medical marvels to the wackiest archaeological discoveries and tending pop-sci stories to space-bound explorations. These stories can vary in length, from short topical overviews to in-depth feature reporting. Covering such a breadth of topics and issues lends to an incredible understanding of the many fascinating and intertwined opportunities available for those interested in pursuing careers in Science, Technology, Engineering, and Math fields.
What sparked your initial interest in your career?
It may sound like a cliche, but I have always known that I wanted to be a journalist. In fact, I wrote my fifth-grade career essay on how I wanted to be the broadcaster for Slime Time Live on Nickelodeon (talk about a throwback). In the two decades since, I have found that the power of information and knowledge is truly what transforms and drives societies. Making educational tools accessible, fun, and engaging to mass populations -- whether that is a journalistic article or a middle school curriculum -- has the ability to incite dreams and spark novel creative processes. That same inspiration that moved me to journalism almost 20 years ago is what I hope my career does for other young women around the world, particularly as STEM research is arguably more crucial in our changing environment now than ever before.  
Who influenced you or encouraged you the most?
I am beyond blessed to be surrounded by an amazing support system of family, friends, community members, and journalistic mentors. My parents taught me that no dream is too big as long as you are willing to put in the work required to achieve it -- and that "education is key" when it comes to advancing your personal and professional selves.
What element of your work/study do you think is the most fascinating?
By far, the most fascinating element of my work is connecting with leading innovators and researchers from around the world to learn about their work and make it accessible to millions of people through my writing. We are in a period of unprecedented scientific exploration and learning about that work first-hand from the people doing it is eye-opening.
What other jobs led you to your current career?
The road to journalism has led me to many great opportunities that have helped to inform my current role: Science Writer for IFLScience, Legislative Correspondent at the United States Senate covering natural resource and NASA issues, Senior Program Associate for an international media development organization serving journalists in developing countries, agricultural reporter in the Rocky Mountains, on-air reporter, anchor, and producer for a local NBC affiliate, photographer, social media manager, commercial fishing deckhand, yoga instructor, barista and nanny. I believe that all experiences lend an invaluable perspective when it comes to evolving professionally and personally -- even if it doesn't seem to be in line with your ultimate career goals.
What are your degrees and certifications?
Bachelor of Arts in Journalism and Communications - Humboldt State University 2012; Bachelor of Arts in International Relations: Globalizations - Humboldt State University 2012; Graduate Certificate in Natural Resource Conflict Resolution - University of Montana 2017; Master of Arts in Environmental Resource and Natural Resource Journalism - University of Montana 2017.
What are your hobbies?
As an Alaskan woman living in Montana, my hobbies involve anything outside and on the water. In my spare time, I can be found whitewater rafting and kayaking throughout the western United States and getting into the backcountry with my border collie, Ruka. During the winters, you can find me on my snowboard or split-board summitting mountains.  
How did you get involved with the Nautilus Exploration Program?
My work with OET began when I was covering the Nautilus Live deep-sea spotting of the "fireworks jelly" — and my interest was lit from there. I served as a 2019 Science Communications Fellow in Samoa and American Samoa and returned in 2020 as a Digital Content Coordinator from ashore. In 2021, I will serve as the Communications Lead for two mapping cruises and continue to fulfill my role as a Digital Content Coordinator.
What advice would you give someone who wants to have a career like yours?
Believe in yourself. It may sound cheesy, but it's an important reminder that you always must be your own biggest advocate (particularly as a woman in male-dominated fields). If you want to go into journalism, come in with an open mind and an empty notebook. Keep your eyes open and your tape recorder on and apply your naturally inquisitive nature to understanding complex issues in a way that enables you to share them in an understandable and accessible tone. Journalism is about constantly learning, relearning, and sharing. Most importantly, don't judge or ostracize certain groups of people because they may have a different perspective than yours. We all have stories to tell about who we are, where we come from, and where we want to go. Each one is valid and worthy of empathy. Learn all that you can about the world around you and the people that inhabit it, keep your ego in check, and remember that life is about learning at every stage.
The most exciting part of exploration is being among the first humans to lay eyes on never-before-seen seascapes and the marine organisms that call them home.
Expeditions
Madison participated in the following Ocean Exploration Trust expeditions: