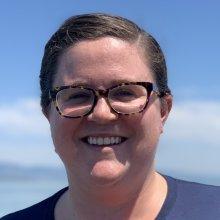 Caitlyn Raines
Seafloor Mapper, Navigator
Technical Adviser and Consultant
ESRI
Tell us about your work/research. What kinds of things do you do?
I specialize in applying geographic information systems or GIS to the ocean and maritime environments. I get to work on finding answers to spatial questions that people have in the ocean. These can range from "what's there?" to "how do these things relate?' to "how do I make a decision based on the information I have?". Since I work with GIS, I get to answer lots of questions about the ocean from different industries and different places. I also work with the General Bathymetric Chart of the Ocean (GEBCO) as the Vice Chair of the Technical Subcommittee on Ocean Mapping (TSCOM). In this role, I get to talk to ocean mappers around the world and provide advice and best practices and help make connections in support of the GEBCO grid and the very exciting Nippon Foundation-GEBCO Seabed 2030 project. 
What sparked your initial interest in your career?
I've always loved being on and around the ocean and I've always loved maps, but I first put them together in a GIS class during my undergraduate degree and realized how cool it was!
Who influenced you or encouraged you the most?
My college professors, in particular, ADM Alfultis, Dr. Bergondo, Dr. Stutzman, and Dr. Mrakovcich, have been some of my best professional cheerleaders! They helped me define the things I was passionate about and visualize the path I could take. Along the way, they've been enthusiastic in celebrating my success and providing advice when I needed it.  
What element of your work/study do you think is the most fascinating?
I love when I get to help answer questions that push both the GIS technology and ocean science. I'm really interested in how we can apply AI and machine learning to multidimensional data. It's incredible to be on the cutting edge of science and technology!
What other jobs led you to your current career?
I worked on a US Coast Guard ship as a deck officer which meant I had to work with a lot of different kind of maps to answer questions about where the ship was and where we should go next.
What are your degrees and certifications?
Bachelor of Science in Marine and Environmental Science – US Coast Guard Academy, 2009; Masters of Science in Geographic Information Systems – University of Redlands, 2013
What are your hobbies?
I like to go swing and blues dancing, and I sail on a tall ship with the Los Angeles Maritime Institute as a volunteer deckhand! You can also find me either at the beach or SCUBA diving on the weekends.
How did you get involved with the Nautilus Exploration Program?
I met a lead scientist during a General Bathymetric Chart of the Ocean meeting and he invited me onboard to help with mapping.
What advice would you give someone who wants to have a career like yours?
No career is ever exactly like someone else's! Things are changing so fast in both science and technology that new fields of study are arising all the time. Find the things you're passionate about and follow them where they lead– who knows, you might be the person who invents a new field!