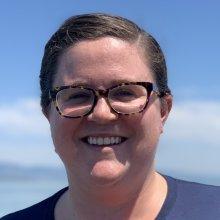 Caitlyn Raines
Seafloor Mapper, Navigator
Senior Consultant
ESRI
Tell us about your work/research. What kinds of things do you do?
I help people solve geospatial puzzles, particularly in the ocean community. I look at how things interact with things over distance and how an action in one place can trigger something in another. I also help people visualize information about the ocean in a way that makes sense and lets people see their world from a new perspective.
What sparked your initial interest in your career?
I got to take a GIS class in college as part of my degree. As part of the class, we had to come up with a project where we identified a question and found data to try to answer that question. I ended up finding this amazing dataset on squid fishing in Greece, but I had some questions. The scientist who created that dataset very graciously answered the questions in the email I sent (and the ones in the follow up emails too!). It was just so cool to be talking to someone on the other side of the world about science they were doing and collaborating on a question using a map. It made me realize how powerful maps were!
Who influenced you or encouraged you the most?
My college professors
What element of your work/study do you think is the most fascinating?
I love how you can use an intangible things like sound to describe what the seafloor looks like. I'll never get over how cool that is.
What other jobs led you to your current career?
I served as a US Coast Guard officer before I left to go to graduate school and focus on GIS. The time I got to spend at sea and around the water made me realize how much there is left to explore. There are so many communities that depend on the ocean - it's important that we learn more so we can better understand how to protect the sea.
What are your degrees and certifications?
Bachelor of Science in Marine and Environmental Science - US Coast Guard Academy 2009; Masters of Science in Geographic Information Systems - University of Redlands 2013
What are your hobbies?
I spend a lot of my free time volunteering as a deckhand on tall ships keeping people how to sail! I also love to go swing dancing and listen to concerts.
How did you get involved with the Nautilus Exploration Program?
I was invited onboard in my role as the Vice-Chair of the General Bathymetric Chart of the Ocean's Technical Subcommittee on Ocean Mapping. I help coordinate an international group of volunteer experts to create the most complete map of the seafloor. Ocean Exploration Trust is a critical part of that effort and I'm thrilled to be onboard to help complete a little more of the map!
What advice would you give someone who wants to have a career like yours?
Say yes to adventures! I find that saying yes to one adventure opens the door to the next one. If you stay curious and interested in learning, you'll find people willing to teach.