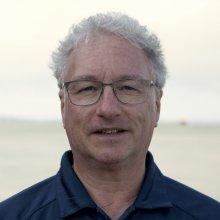 Dave Robertson
Video Engineer
Video Engineer
Denali Media/KTVA
Tell us about your work/ research. What kinds of things do you do?
My specialty is designing and building video systems, from complete TV stations to portable production systems.
What sparked your initial interest in your career?
In 2005 while working at University of Washington I was asked to facilitate installing an HD camera on Jason to deploy on R/V Thompson then building and operating a video system to support it. That got me interested in Oceanography.
Who influenced you or encouraged you the most?
In Oceanography it was Drs John Delaney and Deb Kelley at University of Washington. They freely shared information about all aspects of the mission with me as my introduction to Oceanography.
What element of your work/ study do you think is the most fascinating?
Seeing new life or geology, possibly for the first time, in high resolution video and seeing how the Science crew react to that is very rewarding.
How did you get involved with the Nautilus Exploration Program? 
While working at the University of Washington campus TV station I was asked to consult with the Oceanography Department on transmitting an HD stream live from the R/V Thompson. We put a Zeus+ HD camera on ROV Jason and did the first-ever live HD over IP broadcast from a ship at sea in 2005. I was the video and satellite engineer for that project. After leaving UW I stayed in touch with Ed McNichol now working with OET and he asked me to consult on new video systems for the Nautilus giving me an opportunity to go back out to sea again.
What other jobs led you to your current career?
That 40 year career in broadcasting! Many different TV stations and Production facility jobs, remote sports production including the Winter Olympics as well as working as the Broadcast Technologies Engineer of a software company during the dot-com boom.
What are your hobbies?
Anything my granddaughter wants to do! My wife and I are Disney fans and we go to Disneyland or Disney World about once a year. I play tuba in several community bands.
What advice would you give someone who wants to have a career like yours?
Get a degree or certifications in IT systems. My industry is definitely going all IP. Never stop learning, and teach if you can to pay it forward.
Expeditions
Dave participated in the following Ocean Exploration Trust expeditions: