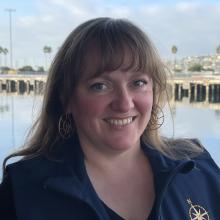 Savanna Nilsen
Seafloor Mapping Intern
Upper Elementary and Middle School Teacher
Sterne School
Tell us about your work/research. What kinds of things do you do?
I teach students in fourth through eighth grade at a school for students with learning differences. Much of my job is teaching students with dyslexia how to use language rules to read and write. My classes this year have been math, geography, and podcast production. One of my most important responsibilities is helping them choose and implement accommodations they will be able to use throughout their life. 
What sparked your initial interest in your career?
My interests in community and education equity led me to teach. I want people of every background to have access to the resources and opportunities they need to thrive. Teach for America was a natural fit for me to start my teaching career, and I've stayed connected to this social justice-centered motivation by teaching students with learning disabilities. I got a minor in linguistics in college and love language development. I also adore storytelling. Both of these play a big role in my daily life at work as well. 
Who influenced you or encouraged you the most?
I loved my high school principal, who made each student feel seen and always had time to check in with me. 
What element of your work/study do you think is the most fascinating?
The most fascinating thing about my daily work life is problem-solving. At any given time, I have fifteen different students with fifteen different sets of interests, needs, personalities, and learning profiles, and this often means fifteen different motivational and instructional strategies. Knowing them as individuals is powerful. 
What other jobs led you to your current career?
I feel lucky to have gotten to hold several interesting jobs: I have worked in international development, marine conservation, research, test development, and more. Through these varied opportunities, I have developed traits like adaptability, communication, and a broader perspective, all of which I call on daily. 
What are your degrees and certifications?
Master of Science in Education and Social Change -- University of Miami 2011;
Bachelor of Arts in Political Science -- Brigham Young University 2006 
What are your hobbies?
I travel as much as my schedule and resources allow. I adore my family and friends and love spending time with them. I play the violin in a city college orchestra that plays Cuban dance music. A perfect local Saturday for me is looking in tidepools or whale watching followed by a hike in the redwoods.
What advice would you give someone who wants to have a career like yours?
Teaching is all about problem-solving, connecting with people, being flexible, and having a variety of skills and interests. My advice would apply to many career opportunities: build mutually supportive relationships, seek opportunities to develop yourself, and attend to your needs as a human so you can show up as your best self every day. 
How did you get involved with the Nautilus Exploration Program? How did you get on the ship?
I used to work for an ocean conservation nonprofit, and I've followed as many ocean-related Instagram accounts as possible ever since. I had been looking into marine internships I could do over the summer when I saw the SCF post on the Nautilus Live Instagram account. 
Expeditions
Savanna participated in the following Ocean Exploration Trust expeditions: