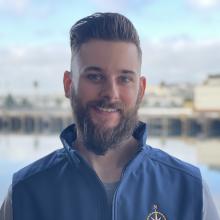 Nicholas Foster
Seafloor Mapping Intern
Account Manager
Environmental Systems Research Institute
Tell us about your work/research. What kinds of things do you do?
I specialize in remote sensing and visualization of underwater ecosystems. While pursuing my undergrad I conducted research at the USC Wrigley Institute for Marine Science, in an effort of understanding long-term growth patterns of invasive species within the MPA. I collect this data hands-on in the field, both by deploying an underwater ROV or scuba diving down myself. The use of Geographic Information Systems is crucial to my research because of the ability to analyze, visualize and share spatial data with stakeholders.
What sparked your initial interest in your career?
My interest in ocean conservation began while I was in the military. I was stationed in Hawaii and began diving coral reefs. I became fascinated by this habitat, and began working with beach cleanup efforts, underwater waste removal, and started educating myself on the issues threatening our ocean's ecosystem. One day while on a dive, I noticed a fish entangled in a plastic bag, and I was able to cut the fish free. This experience weighed heavily on me and ultimately impacted my decision to pursue my studies in Environmental Studies.

Who influenced you or encouraged you the most?
I take a great deal of inspiration from the world's leaders in environmental health and sustainability and innovation. Elon Musk, Bill Gates, Dr.Dawn Wright to name a few, are all in their positions because of their hard work, and passion for a better future. I also find myself relying on the self-motivation and dedication instilled in me by leadership in the Marines. I was once told, if you don't see anyone you want to emulate, just be that person. Someone may be looking for you.
What element of your work/study do you think is the most fascinating?
Discovery is the most fascinating element of my work. I have a deep passion for uncovering the mysteries within the depths of our oceans and the species which reside there. When thinking about my dream jobs, nothing sounds more appealing than setting out on a voyage into the unknown.

What other jobs led you to your current career?
My time spent serving my country in the United States Marine Corps has given me the tools to pursue my passion for saving the ocean. I spent a lot of time trying to figure out my next steps after I finished my 4 years of service. Never did I think I would be stationed in Hawaii and ultimately discover my passion for ocean conservation. It always amazes me how you can find purpose in every experience, even if you don't realize it at the moment. The realization that ocean conversation was the career for me in Hawaii, led me to pursue furthering my education at USC, working as an intern for Esri, and now working for them full time. A company that is committed to solving the world's most difficult problems.

What are your degrees and certifications?
I have a B.S. in Environmental Studies with a minor in Geographic Information Systems & Sustainability Science --University of Southern California 2021; AAUS Scientific Diver.
What are your hobbies?
I love to Scuba Dive, hike, restore classic cars, and travel. My wife and I just got back from a long road trip a few weeks ago.
How did you get involved with the Ocean Exploration Trust?
I Learned about the Ocean Exploration Trust while attending the Ocean and Atmospheric GIS forum that is hosted by Esri. Since then, I have done my research. I learned about Nautilus Live and I did an independent study in preparation to pursue my spot as an intern.

What advice would you give someone who wants to have a career like yours?
There is no substitute for hard work. Get inspired, and then think about where you want to end up. Work backwards from there. Track your journey, and work on your goals until you get to where you want to be. Travel to learn about the world around you, and expand your perspective of how natural systems work. Find a niche in the subject you are passionate about and learn everything you can about it. Nothing in this world is out of your reach if you are willing to put the work in to achieve it.