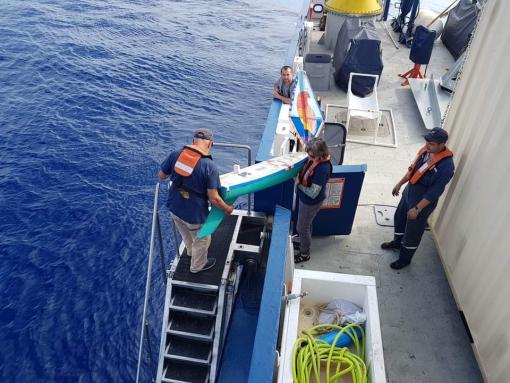 Ocean Exploration Trust
Fledgling Freddy Data Points
Status: At Sea
Boat ID: 210301421
Date Deployed: 10/18/2021
From Where: 24 42.5 N 143 1 W
Explore with Path Analysis Tool: click here
During a mapping transit from Southern California to Hawai'i in October 2021, E/V Nautilus joined forces with students in southern California, to launch Fledgling Freddy, a miniature sailboat outfitted with a variety of oceanographic tools and technology to record its trans-Pacific journey.
Fledgling Freddy is a "miniboat" built by students at Marco Antonio Firebaugh High School, a public high school in Los Angeles, CA, as part of non-profit organization Educational Passages' Miniboats At Sea program. It is the student's hope that Fledgling Freddy will eventually make its way to Kiribati, more than 4,100 miles from its home in Los Angeles!
"Our Miniboat Program offers an extraordinary way for people of all ages to learn crucial STEAM skills, discover maritime careers, and build connections that will last a lifetime," wrote Educational Passages. "The program introduces participants to sailing, engages them in collaborative learning through international cultural experiences, and increases the understanding of the value of water on our planet as a shared resource through ocean literacy."
Following the ship's departure from San Pedro, CA, Fledgling Freddy was launched on its ocean voyage on Oct. 18 at a student-selected location in international waters along E/V Nautilus' expedition mapping track en route to the Hawaiian Islands.
This two-meter-long boat outfitted with a Maker Buoy adapted sensor package, which includes air temperature, water temperature, and orientation sensors, as well as a GoPro and GPS system that allow students to track Fledgling Freddy's route in real time and learn about ocean conditions using original data from their boat. The cargo hold is also home passage gifts from the students, including trinkets and a specially crafted message for whoever may someday find the boat ashore.
"I hope you are delighted and surprised to find our mini boat. Please take it to the closest school and ask if there is a teacher who would be willing to adopt Freddy and restore him/her to his/her former glory and functionality. Send us an email and we will work to make sure the teacher has everything they need to launch Freddy out for another adventure," reads the letter.
"Freddy has been made with love by students from Marco Antonio Firebaugh High School in Lynwood CA. USA. You may keep the treasures in his/ her hold and add new things to share with the next class who finds him/her."
The students that built Fledgling Freddy watched its launch during a special live-streamed interaction with the team on Nautilus. During the meeting, the miniboat's first report came in with data and a picture that were shared to the vessel's webpage.
[PHOTO OF STUDENTS WITH FREDDY]
Ocean Exploration Trust (OET) is proud to help support Educational Passages and this learning experience for students at Marco Antonio Firebaugh High School and others around the world as they follow the Fledgling Freddy on its voyage. Education is a central part of OET's mission offering educators, students, and the global public remote exploration experiences via live video, audio, and data feeds from the ship streaming 24/7 to NautilusLive.org, a library of ocean education activities, as well as free one-on-one ship-to-shore interactions direct from explorers to classrooms and science centers.
E/V Nautilus Expedition
E/V Nautilus will transition to conducting operations within the central Pacific for the next several years, starting with a 10-day mapping expedition funded by NOAA Ocean Exploration through the Ocean Exploration Cooperative Institute. The mapping on this expedition will contribute directly to filling mapping gaps in the U.S.