Sharing the excitement of exploration is a central part of the Ocean Exploration Trust mission. Each year many STEM professionals join the ship including talented and passionate educators and storytellers in the communications role who believe exploration and research deserve to be shared with the world. Mission communicators within the Corps of Exploration are participants in OET education programs or education /outreach professionals from OET's staff or other partner organizations. They work closely as a team and alongside all the other watchstanders to tell clear and compelling stories during complex seafloor exploration. 
"I think there are a lot of times when I myself underestimate the difficulty of being an educator… Being an educator is one of the most difficult tasks that one can do. Especially having the mentality [that] if the audience doesn't understand what we are saying on Nautilus Live, then we haven't really educated the public. Educating is such a difficult task but it's equally, equally rewarding."

John Paul Balmonte, Science Communication Fellow
On most expeditions, the communications seat in the control van is filled by Science Communication Fellows (SCFs).  SCFs are educators interested in exploration who apply and are selected to participate on Nautilus for one season, or return for additional seasons as Lead SCFs. With the multitude of ocean science, technology, and career stories to tell, OET strives to select a diverse group of perspectives for the communication role. Our SCFs come from many backgrounds: K-12 classroom teachers, informal educators, museum interpreters, artists, writers, university professors, and more. While on watch, communicators answer questions submitted through Nautilus Live to help viewers learn the science of an expedition and the teamwork required to complete it. When not on watch, the communicators are the hosts for ship-to-shore live interactions from the ship's broadcast studio to audiences in museums, aquariums and classrooms around the world. Most expeditions sail with three communicators, including one Lead Communicator to mentor the rest of the team.
"[I have] the opportunity to come aboard then go back and be a storyteller and excite younger people about the type of work that is done in this vessel, promoting science, technology, engineering and mathematics and hopefully in the years to come we have somebody else from my hometown onboard"

Dr. Nikos Krisitis, Nautilus Ambassador
Communicators work alongside the operations and science teams to learn more about the inner workings of Nautilus so they can return to their own communities to excite and inspire students and educators with first-hand knowledge of exploration. They also work with and develop education resources — lesson plans, activities, articles, or videos — that connect concepts found in real-world ocean exploration to classroom curriculum and STEM concepts. Communicators also assist OET staff in documenting shipboard operations and contributing to Nautilus Live website and social media content. Access all of OET's Education Resources including standard-aligned STEM Learning Modules and a Digital Resource Library of activities and videos through www.nautiluslive.org/education.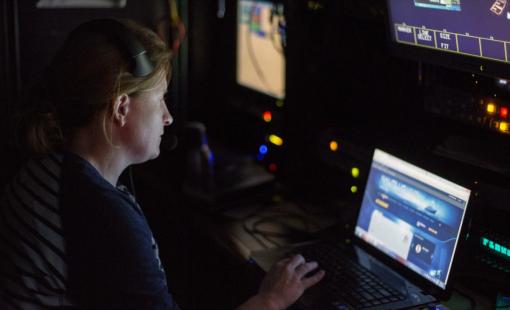 Credit
Ocean Exploration Trust
Career Pathways 
Communicators on Nautilus bring unique experiences with them onboard that make them talented engaging storytellers for their audience ashore and online through Nautilus Live. Educators may have training, degrees, and certifications in education, interpretation, filmmaking, data science, and many different STEM fields. The range of backgrounds and specialties is as diverse as the roles of the communicators sailing aboard Nautilus, from school teachers, informal educators, museum interpreters, artists, writers, university professors, and more. Each year, several communicators are selected to return as team leaders and mentors for others through the Lead Science Communication Fellowship Program.  To join the team as a mission communicator, learn more about the Science Communication Fellowship on our Education page. 
Other careers with similar skill sets include: researcher, scientist, engineer, photographer, filmmaker, elementary, middle school or high school teacher, media specialist, professor, artist, news producer, journalist, graphic designer, museum interpreter, and more.