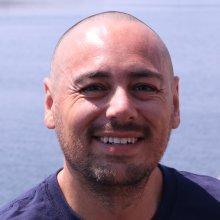 Luis Mora
Science Communication Fellow
Secondary Science and Health Teacher, Science Department Co-Chair
Harry Bridges Span School
Tell us about your work / research. What kinds of things do you do?
I am proud to be a middle school health and science educator in Los Angeles. I am responsible for helping my students strengthen, develop, or even redevelop a love and respect for science. I help create the next generations of leaders, empowered citizens, informed politicians, responsible scientists, mechanics, engineers, nurses, doctors, veterinarians, technicians, firemen, nutritionists, fitness trainers, electricians, plumbers, artists, policemen, city planners, architects, journalists, advocates, managers, educators, entrepreneurs, parents, and more. Ironically as a science and health teacher, my job is just as much an art as it is a science. At the end of the day I know I am planting seeds in the minds of my students that sometimes bloom right in front of my eyes. Countless others will bloom in the communities around me in the future ahead.
What sparked your initial interest in your career?
I became an educator by accident. I have always loved learning about our universe, our planet, our humanity, and our purpose. After a long stint in the private sector, I felt unfulfilled and searched for my true calling. I didn't have to look too far because my inspiration came from my wife. She is an elementary teacher and I saw the deep impacts she has with her students and community. It was clear that there was a great need for someone who understands science, and has the passion and ability to make it accessible and fun for others. I dove in and fell in love with sharing, motivating, molding, counseling, and teaching the wonders revealed by science to the youth of Los Angeles.
Who influenced you or encouraged you the most?
My college professor and advisor, Chiseko Matambanadzo, pushed me to do whatever I love, help those in need, and be conscious of my duty to work towards making our civilization do what is right for the good of all organisms and peoples who inhabit the Earth. Chiseko and my wife saw that this is the heart of who I am. My wife has always been my greatest advocate and guided me into what is now my lifelong passion.
What element of your work / study do you think is the most fascinating?
Have you ever met a seventh grader? They are fascinating creatures. It is often described as one of the most challenging of ages to work with. I agree with those people. However, I find them misunderstood. A time where supportive adults are greatly needed but sadly and unknowingly too often pushed away. They are at an incredibly critical juncture in their lives. For better or worse it is a time that we have all passed through. They are still figuring out who they are, each is unique, and we laugh all the time.
What other jobs led you to your current career?
None! I have had many jobs over the years: project manager, banker, home improvement sales, a driver for elected officials, overnight stocking, food delivery driver, and cashier. To add more confusion, I studied third-world history with an emphasis on Africa. Science was just my hobby, albeit a serious hobby. I took many science courses for fun in college: astronomy, anatomy, physics, geology, geography, anthropology, sociology, and biology. I subscribed to Science periodicals as a teenager and young adult. I would and still follow the latest research in every field. My travels around the globe tend to focus on science related sites such as CERN, Tycho Brahe and Galileo's museum, Olduvai Gorge, the Serengeti, the Great Barrier Reef and the Rainbow Reef, Giza, Milford Sound, Iguazu, CalTech, and Palomar. Due to my lifelong love of science and travels, I was easily able to pass the exams to teach secondary science. So, therefore, sometimes it's your hobbies, passions, and late night obsessions that will lead you into your career.
What are your degrees and certifications?
Bachelor of Arts in History with a Minor in International Affairs -- Slippery Rock University of Pennsylvania 2005.
California Clear Teaching Credential - Geoscience (Kindergarten-12th grade) -- 2009
Additional Authorization - Health Science (Kindergaten-12th grade) -- 2012
Additional Authorization - History (Kindergaten-12th grade) -- 2012
English Learner Authorization - CLAD Certificate -- 2009
Community Emergency Response Team (CERT) - First responder certification - Redondo Beach, California -- 2010
What are your hobbies?
I love traveling, 36 countries down about 160+ more to go. I enjoy reading, running, hiking, and snorkeling around the planet. I am a news junkie, including science news. I am always interested in going to a good food festival. And I love taking college courses for fun, up to this day.
What advice would you give to someone who wants to have a career like yours?
If you want to go into teaching you need to comfortably know your content area and related areas inside and out. That means at several orders of magnitude above whatever grade level you teach. Youngsters will question you in unpredictable ways and will discover weak points in your knowledge. There is no shame in not knowing something, but it is your job to fill those gaps in for yourself and later for them. Always improve your craft and try new things out with your students. Fundamentally speaking, classroom management is essential for any learning to happen, and it all begins with mutual respect. There are going to be ups and downs. Some days you are on cloud nine, other days you are about to quit. That's normal and that's why teaching is not made for everyone. It is one of the most challenging and yet rewarding careers possible. Everyday brings something new. Pick your battles. Don't sweat the small stuff. Have fun. Make it fun - you are in control. If you are not laughing, smiling, and loving what you do then you are doing something wrong. Most importantly, as a teacher, you have an incredible responsibility with the power to mold the future of your community, city, and country for generations. Use that power wisely. Always be kind -- do no harm. The students giving you or the class the most problems have had a traumatic past. Don't let the shy ones stay lost in the corners. Everything you do and teach should somehow circle back to the preciousness of all of their lives and of all life on Earth. Everything you teach should somehow emphasize preserving, protecting, and improving all of it.
How did you get involved with the Nautilus Exploration Program? How did you get on the ship?
I attended an OET/Nautilus STEM workshop near my school and recognized the incredible work being done by the team and wanted to bring more of it back into my classroom and community. They mentioned there was an opportunity to go on an expedition with the crew and I am glad I applied.