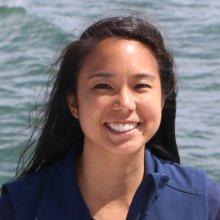 Megan Chen
Science Communication Fellow
Ocean Education Specialist
Smithsonian - National Museum of Natural History
Tell us about your work / research. What kinds of things do you do?
I get to work with the education here as well as scientists and exhibit teams to create activities and develop programs that engage museum visitors from all over the country and the world with the wonder of the ocean, the issues it is facing and what people can do to protect it! Right now, I'm most excited about training volunteers on Science on a Sphere, a 6-ft suspended sphere that you can project global data visualizations onto.
What sparked your initial interest in your career?
I read a book called "Meg" by Steve Alten in high school, and although it was fiction, the author wove in deep sea science and ocean exploration, and I was hooked ever since! When I was in undergrad, I was working towards a Bachelors of Commerce, but also minored in Biology. When I realized I couldn't wait to study for my marine biology exams (nerd alert!), I started to think how great it would be to do what I loved. I never thought I could have an ocean-related career because I didn't know anyone in the field and I thought I would have to redo my undergraduate degree in science. After doing an internship at an aquarium in Taiwan, I saw that there are so many careers that were ocean science-related career beyond science!
Who influenced you or encouraged you the most?
Since I didn't really know anyone in the marine field, I learned all I could by reading ocean science blogs (shout out to Deep Sea News), and other magazines like National Geographic and watching documentaries like BBC's Blue Planet! Listening to the stories of marine scientists as well as seeing amazing images of awe-inspiring ocean creatures really inspired me and made me want to learn more!   
What element of your work / study do you think is the most fascinating?
What makes the Smithsonian's National Museum of Natural History so cool is our collections. We have over 145 million specimens and objects that help reveal the history and the story of our natural world and our place in it. I get to see things from whale earwax to an entire giant squid to deep sea isopods every day and also use objects to share with visitors, examples of research going on at the museum, as well how we can protect our ocean.  
What other jobs led you to your current career?
I worked as an Educator at Ripley's Aquarium of Canada before coming to the Smithsonian but also volunteered at the Royal Ontario Museum and Ocean Wise, a sustainable seafood eco-label. Because science blogs were such a big influence for me, I also write for oceanbites.org. All of these positions helped me learn how to 'translate' science to something anyone can understand and make it relevant to people's lives. I also have to say customer service jobs in clothing stores and restaurants helped prepare me for what I do today!
What are your degrees and certifications?
Bachelor of Commerce, Finance & Economics - University of Toronto 2009; Masters of Coastal & Marine Management - University of Akureyri 2012
What are your hobbies?
I like biking around the city, cooking recipes from around the world and exploring different corners of the world. I also love continuing to learn by going to museums, lectures, and events, and I am just getting into gardening. 
What advice would you give to someone who wants to have a career like yours?
Reach out to people in the field you're looking to get into, take internships and volunteer if you can, don't be afraid to ask anyone (including friends and family) if they know of any open opportunities, stay excited and stay humble.    
How did you get involved with the Nautilus Exploration Program? How did you get on the ship?
I first got hooked by watching Nautilus Live! Who can resist exploring alongside scientists to see parts of the world for the first time that have never been seen before?! When I found out there was an opportunity to sail with them, I applied right away!
Expeditions
Megan participated in the following Ocean Exploration Trust expeditions: