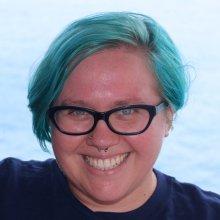 Al Leszczynski
Science Communication Fellow
Science Interpreter
The Franklin Institute
Tell us about your work/research. What kinds of things do you do?
As a Science Interpreter at The Franklin Institute, I have the pleasure of never having the same day twice. Every time I step through the doors of my institution, I know I have something new ahead of me. My days consist of things like live science shows on topics such as the science of fireworks, interaction with the public on the museum floor to share the exploration of Nautilus Live, training our dedicated education volunteers to dissect cow eyeballs, writing and demoing curriculum about biomimicry or soil microbiomes, and generally doing everything I can to support the mission of my institution. In the spirit of inquiry and discovery embodied by Benjamin Franklin, the mission of The Franklin Institute is to inspire a passion for learning about science and technology. My fellowship with the Corps of Exploration directly supports this mission, and I can do it from the middle of the Pacific Ocean!
What sparked your initial interest in your career?
As a young child, I loved to watch coquina clams on the beach in Ocean City, New Jersey as they wiggled back down into the sand each time I exposed their hiding spots. At the time, I had no idea what these things were, but I was in love with them. I would later learn they were mollusks and a lifelong fascination with the world was born. 
Who influenced you or encouraged you the most?
Adaptability, experimentation, and resiliency are the most important lessons I've learned from my biggest heroes in life, my parents Bernadette and Ed Leszczynski. I was a weird kid and probably an even weirder adult but never once have they discouraged my passions. They also model for me the true idea of being a lifelong learner and giving back through teaching. They both are second-career teachers (my mom: 2nd grade; my dad: HS) after each having long and successful careers in business and marketing. I was lucky enough to grow up watching both of them transition into the role of classroom educators. I thank them, and my younger brother Vincent Leszczynski, for always supporting me. To have the strongest role models in my life also be my loudest cheerleaders has been quite a special experience.
What element of your work/study do you think is the most fascinating?
The most incredible experience I've had working at The Franklin Institute was when myself and my education department hosted about 10,000 Philadelphians for a free day-long celebration of the North American Total Solar Eclipse in August 2017. We had tents made of viewing material, 20+ sunspotters, telescopes with sun guns, and gave away thousands of solar viewers. It was so special to share that experience with my city.
Now, with one scientific research cruise with the Corps of Exploration under my belt, I can say that going to sea has been an incredible part of my growth personally and professionally.
What other jobs led you to your current career?
I began my college career at Drexel University where I had the influential opportunity to work under Dr. Gary Rosenberg and Paul Callomon at the Academy of Natural Sciences of Philadelphia at Drexel University. From 2013-2014 I served as a Curatorial Assistant in Malacology full time for 6 months as part of the well-known Drexel Co-Op program. While I did transfer to Temple University later in my college career, I remained a part-time employee in the department for many months while transitioning schools. I still remain an active volunteer as I try to support the department for a few hours every month. This experience and the connections I made and continue to make in the department cemented my love for museums, shells, and outreach.    
What are your degrees an certifications?
Bachelor of Science in Environmental Science - Temple University 2016. While I did not have an official concentration, my classwork focused on marine ecosystems and geomorphology.
What are your hobbies?
I have played the saxophone since the 2nd grade and I have a beautiful silver tenor saxophone on which I especially enjoy playing Mario and 30 Rock theme songs. I also run a science Instagram to share fun things about my job and just about anything I find worth sharing! @snailix
What advice would you give someone who wants to have a career like yours?
Don't be afraid to ask questions of the people you are inspired and fascinated by. There is a great podcast called Ologies with Alie Ward. She interviews different science experts about their field and her motto is "Ask smart people dumb questions." I think that attitude can get you very far in life because you don't know what avenues and opportunities could open for you with a "dumb question". Since early in my college career I had the chances to be around very smart people. I am thankful they always answered my questions.
How did you get involved with the Nautilus Exploration Program? How did you get on the ship?
I once used the Nautilus' and Okeanos' feeds as my study music through most of college, but I had no clue this opportunity existed. At least not until a past summer (2017) when I was asked by my Director to be the in-person host for a ship to shore interaction between our museum's Discovery Camp program and a past Franklin Institute employee and member of the Corps of Exploration, Katelyn Sullivan. She did a fantastic job and as soon as the interaction ended I asked: "HOW CAN I DO THAT?". I began my application almost immediately.
After an amazing experience on board E/V Nautilus in 2018, I applied to become a Lead Science Communication Fellow and I am so thankful to have this opportunity not just once, but twice!
Expeditions
Al participated in the following Ocean Exploration Trust expeditions: