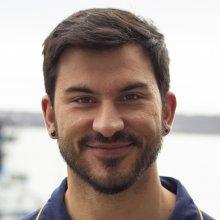 Brandon Rodriguez
Science Communication Fellow
Education Specialist
NASA Jet Propulsion Laboratory
Tell us about your work/research. What kinds of things do you do?
I presently work at NASA Jet Propulsion Lab as a STEM Education Specialist. After a rewarding career in research, I wanted to share my love of science with the next generation. I became a chemistry teacher and have since joined Texas State University as part of a partnership with NASA in order to work with teachers on bringing exciting science into classrooms nationwide.
What sparked your initial interest in your career?
The longer I worked in science, the more apparent it became to me that many students were unaware of the careers available to them. As a result, I left my career in chemistry to help open doors for the researchers of the future. I began teaching high school and college chemistry and physics, which led me to NASA Education and furthering my ability to bring exciting science to kids across the country.
Who influenced you or encouraged you the most?
Without a doubt my high school chemistry, Mr. Ewing, who took a troublesome kid and re-routed him to a career in science.
What element of your work/study do you think is the most fascinating?
Every day I walk on the NASA site I am surrounded by people who dream big. They send robots to the edges of the solar system, they detect planets light years away, and they make time to sit down with me to talk about their passion for their work.
What other jobs led you to your current career?
I've worked as a chemist developing green technologies to produce plastics for several years, which took me all over the world. After that, I worked as a high school and college science teacher, and finally as a professional development and curriculum specialist at the Jet Propulsion Laboratory.
What are your degrees and certifications?
Masters in Education, Bachelors in Chemistry, Bachelors in Philosophy
What are your hobbies?
I'm big on the outdoors and exploring this crazy world of ours.
What advice would you give someone who wants to have a career like yours?
Rome wasn't built in a day. Set a goal for yourself and identify the steps to get you there. Big dreams will require smart strategies.
Expeditions
Brandon participated in the following Ocean Exploration Trust expeditions: