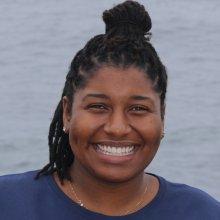 Onyeweenu Ogene
She/Her
Science Communication Fellow
Board Member
Friends of the Hawaiian Islands National Wildlife Refuge
Tell us about your work / research. What kinds of things do you do?
I currently work with Friends of Hawaiian Islands National Wildlife Refuge in developing a teacher training program on the curriculum our organization has made about Papahānaumokuākea Marine National Monument. Our organization's mission is to connect you with the nature and culture of the Northwestern Hawaiian Islands through education and outreach, in support of Hawaiian Islands National Wildlife Refuge, part of Papahānaumokuākea Marine National Monument. Our vision is that every person is empowered and takes action to continue the story of Papahānaumokuākea. We recently were able to hire two curriculum writers to create a basic, step-by-step, 4th grade curriculum about the nature and culture of the monument. I am essentially preparing the next stage of the curriculum implementation process by applying to grants, networking with donors, finalizing curriculum documents, planning the teacher training, determining teacher incentives, and finding ways to get teachers to sign up to test out the curriculum in their classrooms...Honestly all really exciting stuff for me!
What sparked your initial interest in your career?
Growing up in Miami, Florida allowed me to be extremely passionate in conserving the oceanic environments of the world, and particularly conscientious about educating the people who influence these imperative environments. In the summer after my first year of high school, my mother encouraged me to attend a marine science-focused summer camp presented by the YMCA. This summer camp brought underprivileged youth to the Maritime and Science Technology Academy High School and Virginia Key Beach Park in Miami. Being already fascinated with all things ocean, I was able to see how this was a new experience for many of my fellow camp mates. I would wonder things like how could you live in Miami and never come across a Portuguese Man of War (a colonial jellyfish-like organism that always washes ashore on the Miami beaches; my favorites!). Many of my campmates did not have access or the privilege I experienced, growing up closer to the beaches and making more frequent trips there. The mindfulness and awareness I experienced at this age made me realize that the ocean can only be protected and conserved if ALL people are exposed to the beauty in its complexity and learn to appreciate its relevance to humanity.
Who influenced you or encouraged you the most?
My family is my huge cheerleading squad! I am so grateful to have a family that supports my dreams and aspirations. I have always felt like I can do anything I set my mind to do. Having this love and support I receive from my family and friends along my journey gives me the confidence where I feel like I can really make a difference in this world.
What element of your work/study do you think is the most fascinating?
The most fascinating element of my work currently is diving into Hawaiian culture, language and history. Through the process of creating the teacher training program, I am learning so much and I hope to keep learning and making connections with other cultures that have an impact on the Hawaiian Islands as well.
What other jobs led you to your current career?
Well I've always worked with kids, as an aftercare leader, a nanny, a paraprofessional, and a registered behavior technician. I also worked as an assistant for the Center for Environmental and Sustainability Education at Florida Gulf Coast University. I think my jobs in working with kids and in sustainability have led me to pursue a career where I'd be aiming to make a more sustainable world for our future generations.
What are your degrees and certifications?
Bachelor of Arts in Environmental Studies with a concentration in Marine Science, Minors in Interdisciplinary Studies and Climate Change - Florida Gulf Coast University 2016
Masters of Arts in Education with Preliminary Credential in Teaching Secondary Science - Alder Graduate School of Education 2021
What are your hobbies?
Hmmm, I love to go to the beach and swim. I love watching the Harry Potter movies over and over again. I also love listening to music. I have an acoustic guitar thats collecting dust; I'm thinking if I get an electric guitar I might be more inclined to practice!
What advice would you give to someone who wants to have a career like yours?
If you want to get into trying to create a more sustainable world like me, first find your type of environment, whether it be the oceans, lakes, forests, desert, etc. Ultimately everything is connected and impacts each other but the world is a big place, so find your niche. Next, you really need to understand the human impacts on these environments and respect the different cultures in place. Some things are a bit hard to stomach and understand but learn to be open-minded and learn to care for the human race in its entirety! Then you will be ready to meet people where they are in trying to tackle the toughest of environmental problems, not from a place of judgment. Practice communicating to others you really wouldn't associate with. I would say I am on sustainable development, outreach, and education career path... so understand the complexities in the definition of sustainability - keeping the environment, social, and economic factors in mind and be ready to explain that to others. I hope to grow in my career by ultimately changing education policy on a global scale but currently where I am is right where I need to be. Enjoy the journey!  
How did you get involved with the Nautilus Exploration Program? How did you get on the ship?
In undergrad, I applied to the Scripps Undergraduate Research Fellowship – Research Experience for Undergrads (REU) funded by the National Science Foundation multiple times! Being persistent is key because I finally was accepted and had the amazing opportunity to work with Dr. Lisa Levin and one of her grad students, Jennifer Le, on a project analyzing 2015 Nautilus footage at Scripps Institution of Oceanography in 2016. I was mind blown by EVERYTHING and even watched the live 2016 footage while doing my own research on species dynamics and human impacts seen in the 2015 footage. I basically told myself that I was getting on this boat one way or another, and so I applied to the Science Communication Fellowship and was a fellow for the 2017 expedition! I've returned for the 2022 expedition and I am so grateful and extremely happy to be back onboard the E/V Nautilus.  
Expeditions
Onyeweenu participated in the following Ocean Exploration Trust expeditions: