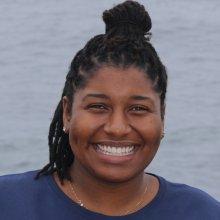 Onyeweenu Ogene
Science Communication Fellow
Graduate Student
Hawaii Pacific University
Tell us about your work / research. What kinds of things do you do?
I recently graduated from Florida Gulf Coast University with a BA in Environmental Studies/Marine Science concentration and with Climate Change and Interdisciplinary Studies minors. Since the beginning of the year, I've continued to work at the Center for Environmental and Sustainability Education at FGCU where I co-managed the Student Associates for a Greener Environment (SAGE) grant program. SAGE provides funding to students and professors or faculty members at the university who want to carry out an environmental or sustainable project that aligns with the Earth Charter principles. I truly enjoyed being a part of an extraordinary program that has even helped bring the concept of sustainability to communities in other countries! I currently am preparing for a big move to Hawaii to further my education in an MA program called Global Leadership and Sustainable Development where I hope to focus on marine conservation, policy, and public outreach. 
What sparked your initial interest in your career?
Growing up in Miami, Florida has allowed me to be the extremely passionate person I am today about conserving the oceanic environments of the world, and particularly conscientious about educating the people who influence these imperative environments. In the summer after my first year of high school, my mother encouraged me to attend a marine science-focused summer camp presented by the YMCA, which brought underprivileged youth to the Maritime and Science Technology Academy High School and Virginia Key Beach Park in Miami. Being already fascinated with the subject, I was able to see how this was a new experience for many of my fellow camp mates. I continuously wondered - how could you possibly live in Miami and not be familiar with the beach life or how haven't you even seen a Portuguese Man of War, which is a colonial jellyfish-like organism that almost always washes ashore on the Miami beaches. This sudden mindfulness made me realize that the ocean can only be protected and conserved if people are exposed to the beauty in its complexity and learn to appreciate its relevance to humanity.
Who influenced you or encouraged you the most?
My mother is my best friend and my whole family has always supported me and allowed me to follow my dreams! 
What element of your work / study do you think is the most fascinating?
I think it is most fascinating when I meet like-minded individuals along my journey. As you dig deeper into what you're most interested in, you'll find like-minded individuals that pop up literally out of nowhere and lead you to new opportunities! Meeting new people is exciting and fascinating to me! 
What other jobs led you to your current career?
Other than working for the Center for Environmental and Sustainability Education, I've worked watching over younger humans and I can truly say that younger humans have led me to my current career path! The children are our future! 
What are your degrees and certifications?
Bachelor of Arts in Environmental Studies- Florida Gulf Coast University 2016; PADI Open Water Diving Certification 
What are your hobbies?
I love to mindfully listen to music, watch movies and go to the beach! I also am learning the guitar and I want to be a pro by the end of this year so that is my main hobby right now! 
What advice would you give to someone who wants to have a career like yours?
If you want to get into trying to save the planet like me, first find your type of environment, whether it be the oceans, lakes, forests, savannahs, etc. Next, you really need to understand the human impacts on these environments and respect the cultures and systems in place. Some things are a bit hard to stomach but learn to be open minded and learn to care for the human race in its entirety! Then you will be ready to meet people where they are in trying to tackle the toughest of environmental problems. Practice communicating to others you really wouldn't associate with. Meet new people and share your own story and your own passion for whatever environment you are passionate about. Let your career inspire others and you'll change the world!  
How did you get involved with the Nautilus Exploration Program? How did you get on the ship?
In undergrad, I applied to the Scripps Undergraduate Research Fellowship – Research Experience for Undergrads (REU) funded by the National Science Foundation multiple times! Persistence is key because I finally got the amazing opportunity to work with Dr. Lisa Levin and one of her grad students, Jennifer Le, on a project analyzing 2015 Nautilus live footage at Scripps Institution of Oceanography the summer before my last semester (2016). I was mind blown, of course, and watched the live 2016 footage while doing my own research on species dynamics and human impacts. I basically told myself that I was getting on this boat one way or another, and so I applied to the Science Communication Fellowship and now I'm here!