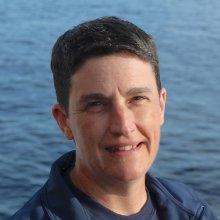 Shannon Donovan
Science Communication Fellow
High School Science & Engineering Teacher
Scituate High School
Tell us about your work/research. What kinds of things do you do?
I teach a variety of high school engineering and science courses. I also mentor the NEED Club and the Robotics Club. The NEED Club is affiliated with the National Energy Education Development Project whose motto is "Kids teaching kids about energy." Our robotics club at the high school is involved with VEX EDR. Last year students in our engineering program built two prosthetic arms for young boys in our state. 
What sparked your initial interest in your career?
I was a graduate student studying cellulose synthesis in tracheary elements of plants when I had the opportunity to participate in the "GK-12 Fellowship in Marine and Environmental Science Education". Part of this program involved me leading lessons for middle school science students. I had such a blast in this program that I left my graduate program and started teaching science!
Who influenced or encouraged you the most?
My biggest influences were my Grandmother, Rita, my 6th-grade teacher, Betty Creelman, and one of my college professors, Dr. Alison Roberts. My grandmother taught me how to observe and experience the beauty in nature. Mrs. Creelman helped me to realize I could be a leader for positive change, and Dr. Roberts gave me space and guidance to become a scientist.  
What element o your work/study do you think is the most fascinating?
One of the things I love most about teaching science is that there are always new things to learn. Technology is changing SO quickly. That is a challenge but also a great opportunity. New tools are constantly being developed to help us extend our senses so we can learn more about our world and beyond. This offers educators additional tools to help interest and motivate students.
What other jobs led you to your current career?
Sometimes just for fun, some of my fellow botany nerds and I would go to tide pools and collect and press seaweeds. One day when I was an undergraduate at the University of Rhode Island standing outside my mentor's office in Ranger Hall I had a serendipitous meeting with a former GSO professor of Biological Oceanography, Elijah Swift. That meeting somehow led to an invitation to do a project in his lab, which led to participation in a GSO's SURFO Program (Summer Undergraduate Research Fellowship in Oceanography). So, for one summer in the 90's I studied the role of calcium ions in the photoinhibition of bioluminescent dinoflagelates.
What are your degrees and certifications?
BS Botany, MS Biological Sciences
What are your hobbies?
I love to garden and hang out with my pups. 
What advice would you give someone who wants to have a career like yours?
Keep knocking on doors! Many people are more willing to help you get started than you might think! Be courageous. Explore. Change directions if needed. All experience has value. Persist!
How did you get involved with the Nautilus Exploration Program? How did you get on the ship?
I have done a variety of programs with the Graduate School of Oceanography since I was an undergraduate at the University of Rhode Island, and I was always envious of the oceanographers that went to sea. Two years ago I applied to go on a short research cruise on R/V Endeavor with the Rhode Island Teachers at Sea Program. I had an amazing experience! While on board I learned about OET and the Nautilus and about the Science Communication Fellowship. I am so thrilled to be joining the Corp of Exploration this summer!