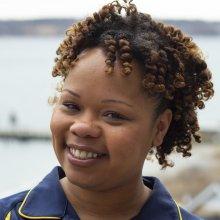 Brandy Jones
Science Communication Fellow
Elementary STEM Coordinator
Alexander Elementary
Tell us about your work/research. What kinds of things do you do?
I am an elementary STEM coordinator who's mission is to cultivate 21st-century skills for students and develop their abilities to be creative, think critically, collaborate, and communicate effectively. I serve many roles, one vital role is to coach a team of educators who are passionate about STEM education, and support lesson delivery, professional development, and organize problem-based learning. I am a part of a team of science specialists who prepare enriched and engaging lessons for students. In my role, it is essential to connect classroom learning with real-world experiences. Often, I am networking with local community members and looking for ways to show students what their content looks like in real-world situations. I work for a Title-I school where students lack the opportunity to leave their neighborhood. Literacy is an issue, and funding is limited. Due to the many problems in public education, I have to modify the curriculum to meet the needs of the population of students I serve. A lot of time and effort goes into classroom strategies that break the barriers of learning. As the coordinator of the Alexander STEAM Academy, we use the Engineering Design Process with Problem-Based Learning to prepare students for future careers. I host two major PBL events, each lasting three weeks long with a showcase at the end to communicate to community members. Throughout the process, I co-teach in classrooms to support teachers and bring excitement to science. I set up video conferences during the process for students to evaluate their findings in comparison to their work, which helps them to thoughtfully make revisions to their products. I model and teach students how to create original digital products using a variety of resources. I am a huge advocate for digital literacy! At the closure of presentations on campus, students are always encouraged to provide a digital product. In addition, I provide STEM enrichment across the campus to enhance our campus vertical alignment of STEM. As an instructional leader, I often miss teaching in the classroom. So, I spend my time two days a month devoted to a second, third, and fourth grade after school in a STEAM Club. In this club, we participate in district challenges, bring in guest speakers, develop coding skills with robotics, and go on field trips relating to STEM education. In this role ultimately we identify problems and find solutions.
What sparked your initial interest in your career?
My interest in STEM began when I would bring my class to grade level STEM challenges and witness the tremendous level of engagement it brought to students. Three years later I decided to teach Summer STEM enrichment. It was during the summer of 2016 that I witnessed students who were labeled as low achieve significantly in group projects. I realized that STEM truly offered students from different ability levels an opportunity to show their inner genius in a different way. Children in kindergarten were shining in ways that many thought were incapable. It was this moment that defined my drive to pursue STEM education in a leadership role.
Who influenced you or encouraged you the most?
My son Jaden influenced me the most. He loves the "T" in STEM technology! He makes videos and loves to do green screen effects. I'm a mother before anything else. Yes... I'm that mom that listens to their children's dreams and does what it takes to see them manifest. It is because of him that I have immersed myself in all things STEM so that I can support him in any area that he desires. 
What element of your work/study do you think is the most fascinating?
The most fascinating thing about the work I get to do, would be to witness students take ownership in their learning, and communicate "the why?" from real-world connections. 
What other jobs led you to your current career?
My role as a classroom teacher for 10 years helped me to be an effective STEM coordinator and instructional coach. It hasn't been that long since I was in the role as teacher, which makes me effective in understanding the challenges that happen in a classroom setting. My training's and professional development opportunities support others with keeping up with digital trends and support reluctant teachers who do not feel comfortable with the rapid changes in technology.
What are your degrees and certifications?
Bachelor of Science in Health- University of Prairie View A&M University 2005
Early childhood through 4th-grade certification- 2007
ESL certification- 2008
What are your hobbies?
I love to dance and listening to music!
How did you get involved with the Nautilus Exploration Program?
I had the pleasure of attending a district STEM conference. One session I attended was titled "Deep Sea Explorations" by Megan Cook. The session was amazing and perfect for what I needed to integrate Science and Technology on the campus I work for. The ocean has always been a big mystery to me, and the session sparked a deeper interest to really go find out what's undiscovered below the ocean waters. The session also shared opportunities for educators to apply and witness first-hand research on Nautilus. I thought this was a once in a life-time moment. I felt that it was my duty to take on the challenge, and share with students and staff in Alief. I applied and took the risk. I am honored to be named as a Science Communication Fellow!
What advice would you give someone who wants to have a career like yours?
If you want to become STEM educator start with implementing integrated STEM learning experiences. Learn about Problem based learning and always search for opportunities to learn and build your toolkit. You never know when you're going to need it.
Expeditions
Brandy participated in the following Ocean Exploration Trust expeditions: