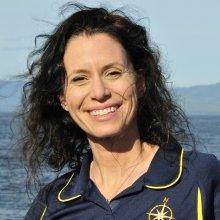 Elizabeth Fahy
Science Communication Fellow
Marine Science Teacher
New River Middle School
Tell us about your work/ research. What kinds of things do you do? 
I work for the Broward County Public Schools at New River Middle School, the marine magnet middle school in Fort Lauderdale, FL. I have implemented & developed an 'Ocean Exploration' class for our school, which allows all students to become a part of the wonderful marine science opportunities that our school has to offer. I currently teach Marine Science to 6th grade students. Many of these students come from all over Broward County to participate in the amazing opportunities that we deliver to our students. I provide our students with the opportunity to get their hands wet in STEM lab learning, field activities in our surrounding communities, and now via LIVE interactions with the Nautilus to experience the exploration of the oceans in ways that they never dreamed was possible.
What sparked your initial interest in your career?
 I first became interested in marine biology as an elementary student growing up near Long Island Sound. I loved going to the beach to explore and discover along the rocky shoreline. My SCUBA certification dives in the Northeast were dark, cold, & murky. When I first dove into the waters of the Caribbean, I was hooked on coral reefs. As I worked towards my graduate degree, I was working as a teaching assistant in undergraduate laboratory classes. I found that I really enjoy the field of education and that I love to teach what I am most passionate about ocean exploration, research, and conservation. The students that I work with hold the future in their hands. Being able to encourage students to become conscious participants in making the world a better place makes my work so satisfying.
Who influenced you or encouraged you the most?
My 2nd-grade teacher had a small saltwater aquarium in her classroom. I found it fascinating! As I grew to love the ocean, my parents were always extremely supportive in encouraging me to follow my heart. Today, my husband and three children are my biggest fans. They are totally excited for me to join the 2016 Nautilus Corps of Exploration! I enjoy introducing my students to some of the ocean greats: Dr. Robert Ballard, Dr. Eugenie Clark, and Dr. Sylvia Earle so that these significant people might impact my own students as they influenced me many years ago.
What element of your work/ study do you think is the most fascinating?
Back when I worked for the National Coral Reef Institute, I was most fascinated with coral restoration projects that involved maintaining nurseries for coral growth. Now, I love encouraging my students to be conservation-minded in their ocean endeavors. We take field trips to learn about everything from sea turtle research and rehabilitation to the Everglades water conservation and preservation.  
What other jobs led you to your current career? 
Before I began my teaching career, almost 15 years ago at New River Middle School, I worked as a graduate research assistant at the National Coral Reef Institute (NCRI) at Nova Southeastern University. While working with NCRI, I participated in numerous research projects from Belize to the Galapagos. I also worked as a teaching assistant in undergraduate classes. Prior to that, I worked as a sea lion trainer, harbor seal dietician, parrotfish counter, stingray tracker, coral health surveyor, and sea turtle nest excavator - to name a few of my more glamorous positions! Today I get to combine all of these interests, as I take my students into the field to explore the marine habitats of South Florida and help to foster and develop the next generation of ocean conservationists!
What are your degrees and certifications?
I hold a B.A. in Environmental Science from Connecticut College and a M.S. in Marine Biology & Coastal Zone Management from Nova Southeastern University. I am a National Board Certified Teacher in Middle-Grade Science. 
What are your hobbies?
I love doing all things in the ocean and outdoors - snorkeling, diving, kayaking, hiking, camping; especially with my family. Reading, gardening, & photography are some of my other hobbies. I also love get outside and run (and clear my head) – all by myself.
What advice would you give someone who wants to have a career like yours?
What I would tell someone interested in my career is this. Teaching is such a rewarding profession. It is not easy work, so you cannot go into it to have your summers off. You definitely should go into it if you want to make a difference! Educators impact the lives of their students in ways that last a lifetime. By educating my students about the current state of our oceans, I hope to better promote the next generation of ocean minded fellows who might better protect these precious resources.
Expeditions
Elizabeth participated in the following Ocean Exploration Trust expeditions: