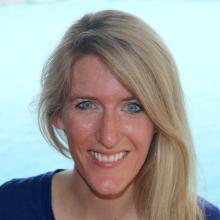 Megan Cook
She/Her
Communications Lead & Expedition Leader
Director of Education & Outreach
Ocean Exploration Trust
Tell us about your work/ research. What kinds of things do you do? 
As OET's Director of Education & Outreach, I bring together exceptional partners in the marine science and education realms and help grow OET programs to inspire our next generation of young explorers. Every day is different as our small team works together to plan and execute outreach to global audiences and education programs like the Nautilus Ambassador Program, Science Communication Fellowship, Science & Engineering Internship Program, Nautilus Patch Design Contest, Science Communication Workshop, professional development training workshops, and Community STEM Program year-round. I also supervise the production team in developing and sharing stories from our extensive library of underwater footage.  I travel frequently as a public speaker to teach others and bring ocean exploration discoveries to new audiences. I am passionate about helping the Corps of Exploration accurately and passionately communicate science and technology stories from sea. My job also includes supporting the digital team to keep www.NautilusLive.org filled with engaging resources for learners around the world. I collaborate with all kinds of incredibly dedicated, talented people: scientists, engineers, funding partners, educators, community organizations, young students, and national leaders. 
What sparked your initial interest in your career?
Lots of six-year-olds want to be marine biologists; I was definitely one of them! The ocean seemed really far away from my house in Idaho, but the creatures that lived there were wacky and fascinating! My first-grade teacher was a scientist-turned-educator and brought all kinds of ocean resources into her teaching. I remember doing math with shells and drawing crayon ocean currents. She made science seem really possible and my curiosity flourished.  I now understand there were many different paths I could have followed to end up working in the ocean: biological science is only one road to this life. 

My parents and grandparents also had a lot to do with my interest since they raised an active, outdoor family. I spent a lot of time as kid playing in local parks, hiking off the beaten path, camping by lakes and streams, and being sent outside to run around basically every day. Those settings helped me learn to observe nature in detail and to ask good questions which is exactly what being a scientist is all about. 
Who influenced you or encouraged you the most?
In every career path, I have found mentors who I look up to and can learn from. Some have formally been in mentorship positions like advisors, bosses, and field crew chiefs. However, I also find major motivation by celebrating the success of my coworkers, classmates, and friends. I appreciate all the people who demonstrated to me it was cool to work hard and be fascinated by new things. 
What element of your work/ study do you think is the most fascinating?
I am extremely grateful my job is to help people fall into fascination with our planet. I love using technology to share really cool ocean stories. I love presenting to new audiences to share that fascination! The spark of discovery never gets old for me. Every day we put the ROVs into the water my team and I, including learners all over the world, can discover and experience something entirely new.
How did you get involved with the Nautilus Exploration Program?  
I first met the Nautilus Exploration Program watching the live feed online. In 2012, I watched on the last day of the expedition season as ROV Hercules discovered a shipwreck near Knidos, Turkey. I couldn't believe I was seeing such a remarkable moment LIVE and knew I wanted to find a way to work with OET. I applied for the 2013 Educator-At-Sea program- now called the Science Communication Fellowship- as an informal educator, then writing a Young-Explorer series for Mission Blue. I returned to the Corps of Exploration as a Lead SCF in 2014 and was hired full-time when the Community STEM Program was created. 
What other jobs led you to your current career? 
Although I knew I wanted to work in an ocean field, my pathway to this point has taken me in many directions. My first experience teaching others about discovery was as a high-school docent in my hometown zoo. In college, I worked as a researcher studying tropical fish reproduction and competition, but also as a tour guide. I have worked as a submarine copilot, an invasive species wrangler, an operations manager handling small boats, a writer, a scuba diving and freediving instructor, a public speaker for ocean conservation groups, a fitness instructor, and an underwater camerawoman. Learning that my passion was in sharing ocean stories was a major turning point for my career leading me to use my scientific training alongside education, communication, and writing skills. 
What are your degrees and certifications?
I have a Bachelor of Science in biology and chemistry from Oregon State University with an emphasis in marine biology. I was an International Scholar studying tropical ecology at James Cook University in Australia and studied oceanography with Sea Education Association. I am also a scuba diving and emergency first response instructor.
I returned to graduate school at Duke University for a Master of Environmental Management degree focused on Environmental Leadership in 2020. 
What are your hobbies?
I love reading, traveling around the above-water and underwater world, and collecting googled-eyed kitchen gadgets. 
What advice would you give someone who wants to have a career like yours?
In the competitive field of ocean research, my advice is to remember sometimes it is complementary, non-science skills that can give you an advantage. Among a field of applicants with equally strong science qualifications, skills like writing, public speaking, creative troubleshooting, teamwork, and manners open lots of doors. Willingness to learn and offering to help people do unglamorous parts of their jobs are great ways to show initiative. Remain willing to learn new approaches from new people as you rise through responsibilities. Other skills that are science-adjacent but extremely valuable include data management, data processing, GIS, boat handling skills, equipment maintenance, engine repair, and grant writing. 
Expeditions
Megan participated in the following Ocean Exploration Trust expeditions:
Selected Publications
2023
2022
(2022).
Multi-scale knowledge and knowledge gaps in deep-sea mining regional environmental management planning.
(2022).
Mapping and Exploration of Deep Seamounts around Johnston Atoll: 2021 Expeditions aboard E/V Nautilus.
Deep-Sea Life
19: 11-12.
(2022).
Combining technology and outreach for ocean exploration.
Ocean Robotics Planet
32: 51-54.