Video:
New Technology Brings High-Tech Laser Lab to Seafloor
What if we could know details about deep sea rocks and organisms without having to touch them or bring them to the surface? That's what Dr. Pablo Sobron and his team are working to do with the Laser Divebot spectrometer - a new piece of technology being tested during Ocean Exploration Trust's NA149 expedition. OET's Megan Cook chats with Impossible Sensing and the SETI Institute's Sobron onboard E/V Nautilus about this tool, its origins in space technology, and the potential for using spectroscopy to study deep sea environments. 
This expedition, which is funded by NOAA Ocean Exploration via the Ocean Exploration Cooperative Institute, marks the first time a high-tech laser laboratory has been integrated into ROV operations for in situ sensing and analysis – opening up a paradigm shift in ocean research and exploration. The heart of this innovation is a laser spectroscopy suite that brings long-range and ultra-high sensitivity Raman and laser fluorescence spectroscopy into a compact package. Mounted on remotely-operated-vehicle Hercules, the Laser Divebot investigates targeted materials on the seabed using three different processes - Raman spectrometry, fluorescence, and luminescence - providing data about the molecular makeup, organic pigments, and mineral composition. The goal of this technology is to develop future versions for autonomous underwater platforms enabling wide-field surveys and highly selective sampling. 
The Laser Divebot was built at Impossible Sensing in cooperation with the SETI Institute, the University of Hawai'i, and the University of Washington's Applied Physics Laboratory as part of the In-situ Vent Analysis Divebot for Exobiology Research (InVADER) mission. Other partners include Honeybee Robotics, NASA's Jet Propulsion Laboratory, SUNY, GSB, the University of Southern California, the University of Southhampton, and the Oak Crest Institute of Science. Funding to develop and deploy the technology for this seafloor expedition was provided by NASA, the NOAA Ocean Exploration via the Ocean Exploration Cooperative Institute, and the Bureau of Ocean Energy Management. Funding for technology testing at sea was provided by NOAA Ocean Exploration via the Ocean Exploration Cooperative Institute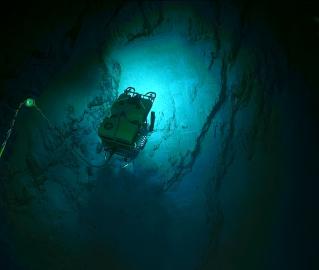 E/V Nautilus Expedition
Our first live expedition of 2023 brings us back to the region of Kingman Reef and Palmyra Atoll as part of our ongoing effort to explore the deep ocean in and around the Pacific Remote Islands Marine National Monument (PRIMNM) through the Ocean Exploration Cooperative Institute.