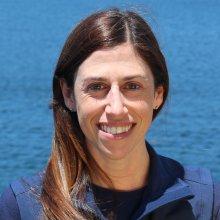 Katherine Sutton
Communications
Former STEM Education Specialist
Ocean Exploration Trust
Tell us about your work / research. What kinds of things do you do?
I am now the Mechanical and Robotics Engineering Instructor at Davies Technical High School in Rhode Island. I was happy to return to teaching in the classroom after working with the Ocean Exploration Trust team for several seasons. 
I joined the OET team during the summer of 2015. My primary responsibility is to bring our exploration and research efforts into the classroom by creating interesting STEM-themed (science, technology, engineering, and mathematics) lesson plans based on various aspects of Nautilus expeditions. I enjoy collaborating with scientists, educators and students to create meaningful activities that will expose kids to the skills and tools of STEM fields, help boost confidence with problem-solving and scientific communication, and connect them to STEM career role models with diverse backgrounds. I work with formal and informal educators in our STEM communities to help introduce these materials to their learning and teaching environments. In addition to overseeing our educational resources, I help assist with various aspects of the Science Communication Fellowship and Honors Research Program. 
What sparked your initial interest in your career?
I grew up spending summer vacations with my grandparents in the coastal town of Narragansett, RI which fostered an early fascination with and love of the ocean. Even though no one in my family worked in a marine science field, my parents had a healthy collection of National Geographic magazines and nature books which introduced me to the work of oceanographers Robert Ballard, Sylvia Earle and Jacques Cousteau, naturalist David Attenborough and primatologist Jane Goodall. These were my version of "celebrities" growing up and I dreamt about what it would be like to one day help further science and understanding of our planet as these people had done throughout their lives.  
Who influenced you or encouraged you the most?
My parents were always very supportive growing up. My father especially encouraged me to pursue my field of interest and taught me the value of hard work, being independent and goal setting early on in life. During school and early careers, I had several excellent teachers and mentors that fostered my abilities to be confident, be myself, and not be afraid to take risks. Today I am fortunate to be surrounded by supportive family, friends, and colleagues that inspire me to pursue my dream of sharing my excitement and passion for science, exploration, and education with a global audience. 
What other jobs led you to your current career?
My background in marine science and secondary education was the perfect blend of expertise for my former position of STEM Education Specialist. My early work in fisheries and aquaculture labs taught me critical research and data-keeping skills which I integrated into children's learning activities in formal and informal education settings. Teaching high school science for ten years in the subjects of biology, oceanography, geology, astronomy, meteorology and anatomy and physiology forced me to be creative and adaptive to a wide range of student needs and learning abilities while honing my communication and curriculum writing skills. I supported myself financially through college by waitressing, in which I gained valuable interpersonal skills that have helped me work effectively with a wide range of personalities in various settings. 
What are your degrees and certifications?
Bachelor of Science in Marine Biology, Minor in International Development - University of Rhode Island, 2002; Masters in Secondary Education - University of Rhode Island, 2005.
What are your hobbies?
I love spending time outdoors year-round swimming, running, hiking, kayaking, skiing, snowshoeing and gardening. I am very adventurous and love experiencing new activities and places. I actively work on improving my cooking skills, and love spending time with my two young kids who love exploring and learning as much as I do!
What advice would you give to someone who wants to have a career like yours?
Always be willing to learn new things and talk to new people. Don't be afraid of taking risks or asking questions. Be persistent and think positively when pursuing goals or a career; don't let others determine what you're capable of. If you truly enjoy what you do that will resonate with others and new opportunities may pop up when you least expect it!
How did you get involved in the Nautilus Exploration Program? How did you get on the ship?
A colleague of mine forwarded me the job posting during the winter of 2015. I thought it sounded like the perfect fit for me and have always been a fan of deep sea exploration and Dr. Ballard's work. I knew that I would always wonder "what if…" if I didn't apply. Turns out throwing my hat in the ring was worth it; several months and a few interviews later, I was offered this amazing opportunity! 
Expeditions
Katherine participated in the following Ocean Exploration Trust expeditions: