A Navigator's main task is to ensure Nautilus is in the correct position for scientific operations with ROVs Hercules and Argus.  The navigator acts as a communications liaison between the ROV pilots and science team in the control van, and the officers of the crew standing watch on the bridge. 
During ROV dives, the navigator has a key role of determining where the ship should move to safely launch, explore the seafloor, and recover the ROVs. With the two-body ROV system, ROV Argus must be in a position to provide a lookout "eye in the sky" view, while maintaining enough slack in the tether between vehicles for ROV Hercules to investigate seafloor features. To accomplish their goals, Navigators monitor ROV movement, ship movement, and changing sea conditions while communicating with ROV pilots, scientists, and crew.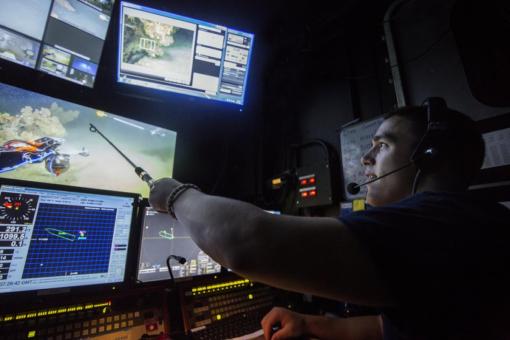 Credit
Ocean Exploration Trust
Navigators have the tools to observe the ROVs and science objectives in their entirety and use this situational awareness to provide the science team or expedition leader with an operational update consisting of previous accomplishments, current status, and future objectives as well as any limitations due to weather, ship maneuverability, and technical systems. By keeping a big picture perspective on the operations, Navigators provide regular updates like how far the ROVs are away from landmarks on the seafloor, or how much the team has progressed through a dive plan's key targets.
Taking into consideration weather conditions, ship speed, and timing constraints, navigators also work closely with seafloor mappers to identify targets and build navigational plans for multibeam sonar mapping surveys. Each watch team has a navigator working with the rest of the science and engineering team to accomplish science goals. During an expedition, one of the three navigators is the Lead Navigator, who oversees and trains the other two. The Navigation team often has a Navigation intern sailing in one of the three watch positions, frequently experiencing their first scientific expedition at sea.
Career Pathways
Within the Corps of Exploration, navigators have training, degrees, and certifications in many fields including nautical science, military service with an emphasis on sonar or vessel operations, geography, geographic information systems (GIS), communication technology, marine operations, satellite engineering, computer science, and physics. 
Within OET's Science & Engineering Internship Program a Navigation Internship is offered in partnership with the U.S. Naval Academy and the U.S. Coast Guard Academy supported by the Office of Naval Research's STEM Program.
Other careers with similar skill sets include: systems engineer, maritime/military officer, geographic-information-system (GIS) specialist, seafloor mapper, petroleum engineer, ocean engineer, acoustics engineer, and more.