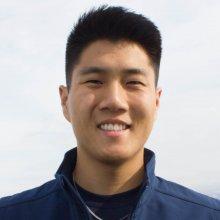 Alex Wang
Navigation Intern
Midshipman (Undergraduate)
United States Naval Academy
Tell us about your work/research. What kinds of things do you do?
Jersey-born and currently living in San Diego, I'm a rising First Class Midshipman (senior) of 25th Company at the United States Naval Academy in Annapolis, MD. This small four-year undergraduate college prepares young men and women to become officers in the U.S. Navy and Marine Corps. At school, I am both an ocean engineering major as well as training to lead sailors and Marines. After my graduation in May 2020, I have selected to commission and serve in the submarine force. Aboard the Nautilus, I bring a unique perspective that blends both an aspect of ocean exploration and conservation with an objective to preserve and protect our national security.
What sparked your initial interest in your career?
On my current path as an ocean engineer, I've always been a fan of using my creativity to build and engineer things. I loved playing with Legos, K'nex, and toy models as a kid. Since then, I have passed down my building toys to my 10-year-old sister Kylie (of course, my 19-year-old sister Rachel, who studies architecture, and I still play Legos with Kylie when we go home). When I designed and built my own remotely operated vehicle (ROV) for an ocean engineering class a few years ago, my curiosity for aquatic technologies surged. It is difficult to understand or care about what we cannot see, revealing why much of the ocean domain remains a mystery and neglected. The mysterious allure has piqued my interest in exploring the oceans, as well as developing technology to better protect marine and coastal life and further our knowledge in harnessing the seas. I aspire to headway a mutually-beneficial symbiosis with our oceans through sustainable engineering. 
Who influenced you or encouraged you the most?
A pursuit for happiness is one liberty we all deserve to embrace as humans. Yet, there are vices that often deny people this liberty. It is our duty to lend a hand and give happiness to those in need. My motivation to serve as an officer in the U.S. Navy stems my admiration for my grandfathers, who both fought in the Chinese Civil War of the mid-1900s against the Communist Party, as well as my father, who served in the Taiwanese military. In the recent year at the Naval Academy, I have been most influenced and encouraged by U.S. Navy Captain Mullaney, a submarine officer who now has over 20 years of service and currently teaches in the USNA Leadership Department. CAPT Mullaney has been an invaluable mentor to me, both guiding me in my personal character development as well as providing me with wisdom for my naval career. I have also been inspired to pursue aspects of marine conservation by my breathtakingly beautiful girlfriend Josie, a marine biology major and the biggest ocean-lover I know.
What element of your work/study do you think is the most fascinating?
It's so fascinating and rewarding to apply what I've learned over all the years of rigorous engineering classes on things that make an impact in the field. I am grateful to have traveled to the British Virgin Islands last spring where I witnessed first-hand the devastating impacts of Hurricane Irma and María on the Islands' coastal infrastructure, economy, and marine life. At that time, I went to help rebuild communities and scuba dove/spearfished to remove the invasive species of lionfish brought by the hurricane. Seeing native sources of seafood dwindling due to the lionfish and hurricane destruction, I realized the importance of protecting our oceans; they provide humans with vital sources of food, transportation and shelter, and resources. For my senior year capstone research project, my group and I will work closely with an experienced professor and actual customers and businesses in the New England area to develop a submersible scallop aquaculture system that produces an economically viable scallop farm and also satisfies the Marine Mammal Protection Act.
What other jobs led you to your current career?
Over the last several years, I've had the great privilege of living and engaging with people from all kinds of military backgrounds. I've been immersed in the various communities of the Navy, such as the Marine Corps, aviation, surface warfare, and submarines. Ultimately, I chose to early-select and enter the submarine community upon graduation due to the close-knit family-like atmosphere, the adventurous and clandestine mission sets, and the opportunity to work alongside the greatest minds in the U.S. military. 
What are your degrees and certifications?
Currently pursuing a Bachelor of Science in Ocean Engineering – United States Naval Academy 2020
What are your hobbies?
I have been playing ice hockey since I was 8-years-old and my favorite NHL team is the New Jersey Devils. I am also an avid longboarder, snowboarder, and surfer. I enjoy playing the guitar and exploring/mixing music, as well as movie-going and TV show binge-watching. My favorite hobby has to be traveling and exploring new places. There's no better way to experience life, different cultures, and foods, and meet amazing people.
How did you get involved with the Nautilus Exploration Program?
Several weeks ago, Commander Swick of the USNA Oceanography Department reached out to me about an internship spot on the Nautilus. I was immediately intrigued at this wonderful chance to explore and assist in ocean research, as well as work with inspiring, intelligent, and unique people from all backgrounds. This is my perfect opportunity to put what I've learned and love to work. I applied, interviewed, and became a member of the team! I'm honored to fly out from Annapolis and represent the Naval Academy on this great adventure.
What advice would you give someone who wants to have a career like yours?
If you're interested in attending the Naval Academy, as with any branch of the military, be sure to perform thorough research before applying; please reach out if you have any questions for I am more than happy to help out. The Academy maintains a rigorous, fast-paced lifestyle that will certainly break you down, but know that it will also build you back up, polish you, and prepare you for your time in the service and the rest of your life better than any place else. Only through pain and struggle will you achieve growth and progress!
Expeditions
Alex participated in the following Ocean Exploration Trust expeditions: