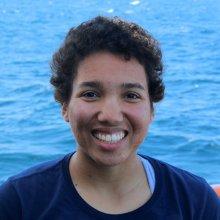 Indigo Jackson
Navigation Intern
Midshipman
United States Naval Academy
Tell us about your work/research. What kinds of things do you do?
I am a midshipman at the Naval Academy training to become an officer. I major in ship design engineering, where I learn things such as how to balance the weights on a ship so that it is stable in the water, what materials make a good hull form, and how to design the interior so the boat is usable for people. I live by the bay in Annapolis, and a lot of people have their boats here, so I am in a great location to get some hands-on experience as well. In order to learn more about boats and what life would be like aboard ship, I have taken several sailing lessons and even had the chance to go on longer sailing expeditions along the eastern coast of the U.S. 
What sparked your initial interest in your career?
I joined the military because I wanted to serve my country, and I first had interest in the Navy because I grew up near the ocean in California and my family often took me to the beach. I read a lot of books and movies at the time as well and learned that I loved the idea of living and working on a ship, so I pursued the career.
Who influenced you or encouraged you the most?
My parents definitely encouraged me the most. They brought me up to believe that I could be whatever I wanted to be, and they encouraged me to work hard academically, which has been very important up to this point.
What element of your work/study do you think is the most fascinating?
I find the communication most fascinating. Being out on the water is a completely different world. You are out on the water at night, and all you can see are lights. There are markers, but no clear lane lines telling you where to go. I have been on a 50-foot sailboat and come up against a 300-foot shipping vessel in the dark, and it was terrifying, but not bad at all because we could talk to them on the radio.
What other jobs led you to your current career?
As far as being at the Naval Academy, I have always gotten good grades in high school. I took the hardest classes I could and tried to be well-rounded by following my passions, and luckily for me, that was enough to get in. As far as studying the ocean, I have always taken opportunities to be a steward of the environment. All throughout school, I have taken part in wilderness clearing operations where we removed invasive species and weeds so the native plants could grow. Trash cleanup days, re-planting operations, and volunteer hikes are all things I do whenever I can, and I believe that taking care of our oceans is just an extension of these things--taking care of the environment.
What are your degrees and certifications?
Working on a Bachelor of Science -- U.S. Naval Academy, class of 2019
What are your hobbies?
I love playing guitar, and I love studying chess. I also like to go rock climbing.
What advice would you give someone who wants to have a career like yours?
There are a lot of avenues to joining the Navy and a lot to becoming a midshipman. You don't have to attend an academy--you can go to the college of your choice and join the Reserve Officer Training Corps, or attend a private military academy. Not many schools teach how to design ships, but there are a few on the east coast such as the Naval Academy, Michigan University, The Stevens Institute, etc. I did not know that what I studied was an option before I looked at the Naval Academy, so just find out everything you can and what is available wherever you are. The biggest piece of advice I would have is to judge new experiences based on your own opinions and what you know you like, not someone else's. If you believe that the discipline you want to study is hard and challenging, you are probably right, but if that is what interests you, don't let preconceptions deter you. You will be able to do anything if that is what you really like. 
Expeditions
Indigo participated in the following Ocean Exploration Trust expeditions: