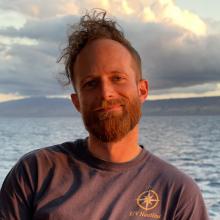 Renato Kane
He/ Him
Lead Navigator
Geospatial Scientist
Ocean Exploration Trust
Tell us about your work/ research. What kinds of things do you do? 
I specialize in collecting, processing, analyzing, and interpreting geospatial data for environmental science research through earth and ocean exploration, remote sensing, and geographic information science.
What sparked your initial interest in your career?
I started out in the field of geography because I had an interest in human/environment interactions, as well as the spatial data that helps us monitor and understand complex environmental systems.
Who influenced you or encouraged you the most?
My grandfather really influenced me. He was a chemist and supported me in pursuing a career in science, and encouraged me from a young age to rationally identify and solve problems with logical reasoning. 
What element of your work/ study do you think is the most fascinating?
What I find most interesting about my work is not necessarily an individual experience, but rather the opportunities in diverse geographical regions and academic fields that allow me to apply my skill-set to multifaceted problems.
How did you get involved with the Nautilus Exploration Program?  
I started working on E/V Nautilus in 2013 as an intern specializing in seafloor mapping. From there, I have held roles as a Science/Data Manager, Lead Navigator, Mapping Coordinator, and Expedition Leader on the ship.
What other jobs led you to your current career? 
I have held research and teaching positions in the past that have led me to my current position aboard E/V Nautilus. At the University of Delaware, I was a teaching assistant and adjunct instructor for courses in geographic information systems. My master's thesis research focused on using ground-based remote sensing techniques (terrestrial laser scanning) to measure rock glacier movement in the Andes Range. I have also performed field work in the arctic studying sea ice thickness. Before graduate school, I held research assistant positions in DuPont and USDA laboratories. While working for Ocean Exploration Trust, I have sailed aboard E/V Nautilus in the Gulf of Mexico, the Bahamas, Panama and the Galapagos Islands, Gulf of California, US and Canadian west coast, Hawaii, Samoa, and many locations in the remote Pacific.
What are your degrees and certifications?
Bachelor of Arts in Geography, University of Delaware 2009 Graduate Certificate in GIS, University of Delaware 2011 Master of Science in Geography, University of Delaware 2014
What are your hobbies?
I like to travel and explore, which usually involves hiking, camping, climbing, and snowboarding. I also like to play guitar.
What advice would you give someone who wants to have a career like yours? 
My advice to someone interested in a career like mine is, above all else, study what you love - but remember to be proactive and opportunistic about research opportunities that come your way. The main focus of my work in school was not in ocean science, but I was able to apply what I did know to an internship at sea that changed the direction of my career trajectory. Be open to paths that lead toward a broadly defined goal rather than a specific topic or project. I have found that seemingly small diversions have made me a better and more comprehensive researcher in general, but they also opened doors to opportunities that may have otherwise been unavailable. And in whatever field you choose to study, it is most important to ask thoughtful, informed questions.
"I enjoy collecting, processing, analyzing, and interpreting geospatial data for environmental science research through earth and ocean exploration, remote sensing, and geographic information science."
Expeditions
Renato participated in the following Ocean Exploration Trust expeditions:
Selected Publications
2022
(2022).
Initial Results from E/V Nautilus Expedition NA128 "Cascadia Margin Seep Exploration": Cascadia Margin Mapping, High-Resolution ROV Multibeam, and Gas/Fluid Sampling .
2022 Ocean Sciences Meeting
(2022).
Mapping and Exploration of Deep Seamounts around Johnston Atoll: 2021 Expeditions aboard E/V Nautilus.
Deep-Sea Life
19: 11-12.