Blog:
Science, Engineering, and Confidence: Paths to E/V Nautilus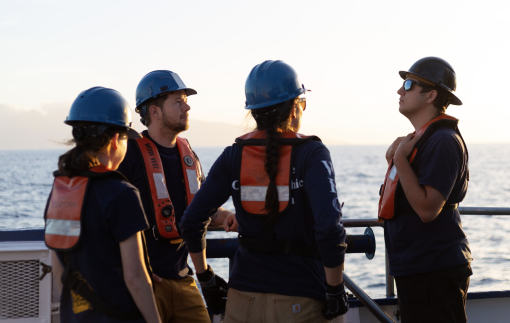 Ocean Exploration Trust
This blog was written by OET Digital Media Specialist and Communications Lead of Expedition NA139 Jamie Zaccaria.
In our third expedition of 2022, the Ocean Exploration Trust team is joined by members from Woods Hole Oceanographic Institution (WHOI) and the University of New Hampshire (UNH) aboard E/V Nautilus for the technology integration cruise. Among these members are dozens of young professionals working in various fields of science, engineering, and technology. These ocean explorers all followed different paths to get here and offer sage advice for others along the way.
On Nautilus' back deck I find Molly Curran, Expedition Lead for the Nereid-Under-Ice (NUI) team. She is standing next to her vehicle, examining its robotic arm and talking earnestly with other team members. Curran has been working as a mechanical engineer in WHOI's deep submergence lab for seven years and oversees the NUI team aboard E/V Nautilus in the operations of their hybrid remotely-operated vehicle, designed to explore difficult places. "Being an engineer enables you to come up with good ideas and then bring them to life," she says.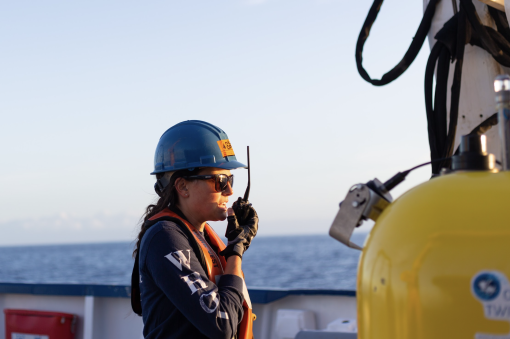 Credit
Ocean Exploration Trust
From a young age, Curran really enjoyed being hands-on and building things, whether it was constructing a treehouse with intricate rope swings or working in the garage with her dad. Although she grew up in a land-locked state, Curran always loved the water and while at UNH, was introduced to ocean engineering. She found the field especially appealing since she didn't envision herself  sitting behind a desk every day. "One of my favorite things about the ocean is that it's so unpredictable, making it really difficult to design for," she says. 
Down in the wet lab, I meet up with Science Team member from WHOI Sarah Stover sampling Mesobot water filters. At only 24, she is one of the youngest Corps members currently aboard E/V Nautilus. As she works, Sarah explains to me how they analyze mesopelagic water samples for environmental DNA, or eDNA, to better understand the biomass makeup of this ocean layer, also known as the twilight zone. But what brought her to where she is today?
"I have always really loved ecology, but then I also wanted to pursue molecular biology and genetics. I grew up going to the Maine coastline over the summer, but never considered myself going into marine biology until I took a class my sophomore year and absolutely loved it. We know so little about the ocean, it's a fascinating place to study," she tells me.
Stover especially enjoys the interdisciplinary aspects of her job, combining physics, oceanography, geology, and biology. She also finds that working in marine biology walks hand-in-hand with her other passion: climate change activism. She notes the important role that oceans play in global climate regulation and wants to play a part in advocating for these critical services. "If you advocate for the oceans, you're advocating for everyone," she adds.
Credit
Ocean Exploration Trust
Now we go up to the control van; a dark space lit up by thousands of monitors, video cameras, and buttons. There Allisa Dalpe is tapping away at a computer whose monitor shows a complicated code of letters and numbers, which appears as a foreign language to me.
Dalpe, a software engineer with the NUI team onboard the E/V Nautilus, has been working full-time as a resource engineer with WHOI for the past year. Although she grew up in New England, like Stover, she didn't always envision herself working in ocean science. "It's ironic that I didn't realize I wanted to circle back to this maritime area until late college," she says.
As an undergrad, she enjoyed physics and math but craved more hands-on experiences which led her to a Sea Semester study abroad program. It was then that Dalpe found her passion for physics and new love for ocean engineering coming together. Dalpe credits her strong relationships with teachers, both in High School and beyond, for helping her pursue her dreams and expand her way of learning. "We learned to think, not just memorize," she elaborates.
What's next for Dalpe after this cruise? She's looking forward to taking NUI to Greenland to explore under glaciers. Her career definitely seems enviable and for those hoping to follow in her footsteps, Dalpe offers the following advice, "Pursue internships to get hands-on experience in the real world that you can't necessarily get in a classroom."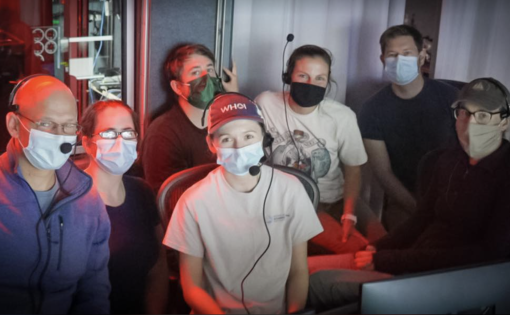 Credit
Ocean Exploration Trust
Science, engineering, and technology are generally diverse fields with diverse participants but there's no denying that many subsets of STEAM (Science, Technology, Engineering, Art, and Math) are dominated by cis-male professionals. Unfortunately, when most people consider a group of engineers or scientists, it often results in an image consisting mostly of men. There's a stigma in which men prefer these types of science; however, the women of this cruise are anxious to prove otherwise. "There's absolutely no reason why engineering should be a male-dominated field," says Curran.
According to AAUW, "Women make up only 28% of the workforce in science, technology, engineering and math (STEM), and men vastly outnumber women majoring in most STEM fields in college." Stover reminds me that even within the different fields of science and technology where there is more female participation, such as biology, still often see lower average pay rates. This is a fact she's keenly aware of as she continues her path towards a career in marine biology.
"As a physics major the female-to-male ratio was very skewed so I got used to it very quickly. I was a TA for a mechanical engineering course where only maybe ten percent of the class was female," says Dalpe. "But I feel fortunate that I haven't personally run into the problems that some people have faced. I've been lucky to be in teams who don't discriminate." Dalpe's team onboard include leader Curran and a diverse group of other talented, intelligent professionals.
Stover also feels lucky to be surrounded by incredibly passionate women in STEAM and strongly encourages others to connect with positive role models and  mentors. She also offers some wise advice for women in science, engineering, and virtually any field: "Some women tend to be interrupted a lot and sometimes have a hard time speaking over the people around them. I encourage everyone to keep trying and if someone is not listening to you, repeat it until you are heard. Always advocate for yourself."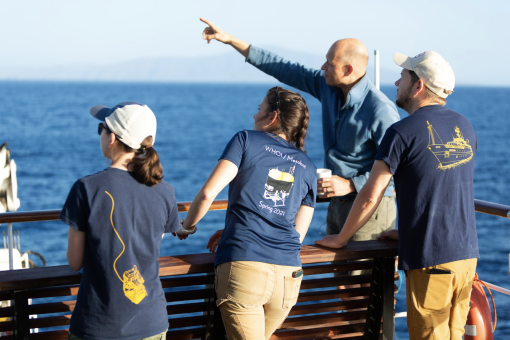 Credit
Ocean Exploration Trust
All of the people on board the NA139 OECI Technology Integration cruise have proven how essential diversity and teamwork are to ocean exploration—and science in general. I continue to be inspired everyday working alongside this amazing group of scientists, engineers, videographers, crew, and everyone else currently calling Nautilus home. 
Curran's words of inspiration may sum up this conversation best, "You really have to believe in yourself, no matter how hard it might seem. You are just as capable as everyone around you, no matter your gender or age. Be confident in yourself and your work." 
This expedition is funded by NOAA Ocean Exploration via the Ocean Exploration Cooperative Institute.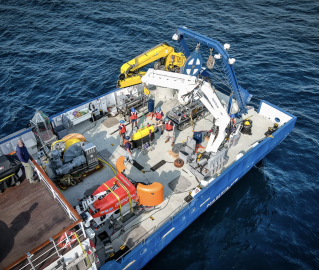 E/V Nautilus Expedition
A key objective of the NOAA Ocean Exploration Cooperative Institute (OECI) is to develop the tools and technology that enable ocean exploration activities to be conducted remotely or without human supervision.